Company News • 16.10.2009
BÄRO to use improved reflector material from 2010
Greater energy efficiency, a longer life, better light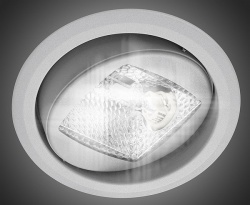 The reflector is one of the most important components of a luminaire. Why? Because the material, shape and properties of the reflector determine the distribution of light in the salesroom and on the products and also the lamp efficiency/utilisation factor. BÄRO systematically implements the German energy saving directive and ensures that less and less electrical power is needed for the area illuminated.

10% higher illuminance or 10% fewer luminaires per area illuminated
As a specialist for energy-efficient and sales-promoting product lighting BÄRO has been working on constantly improving luminaire reflectors for years. Following intensive research at BÄRO's own lighting laboratory in Leichlingen, the company is now presenting an innovation that will bring "enlightenment" to salesrooms: special luminaire reflectors made from the material "MIRO hammer finish". Dr. Martin Kirsten, Head of Engineering at BÄRO, says "The name MIRO describes a reflection-enhancing aluminium surface. Numerous tests and laboratory measurements have shown that the MIRO material combined with a hammer finish surface can increase lamp efficiency by more than 10%." In other words: energy consumption can be reduced by approximately 10% to achieve the same lighting effect and brightness on the products. This helps to achieve a sustainable reduction of energy costs. The new reflector material also has advantages with regard to heat generation: a much lower temperature is produced inside the luminaire and this increases the lifetime of both the lamp and the luminaire. Less heat generation also means less work for the air conditioning system in the salesroom. This innovation is an all-round winner!

Supplier

Wolfstall 54-56
42799 Leichlingen
Germany