Product • 21.08.2007
Circular Luminaire 421-388 FC10
Design: Bartenbach Lichtlabor, Aldrans, Austria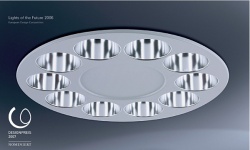 The technical requirements for fitting out a modern building are constantly subjected to change in accordance with the latest state of technology. Ceiling areas are therefore also increasingly used for the installation of various supply systems. As a consequence, the ceiling must house a number of outlets for systems such as lighting, fire alarms (RM), loudspeakers (LAS), sprinklers (SP) and presence detectors (MUS). The ceiling as a peaceful and harmonious surface is now a thing of the past.
The compact recessed circular luminaire 421-388 FC10 represents an integrated system solution for circular T-16 fluorescent tubes with VDU workstation anti-glare properties.
The multi-function capacity of luminaires with fire alarms or luminaires with loud speakers thus reduces the need to cut out sections of the ceiling, makes planning easier and facilitates a more harmonious appearance of the ceiling.
The low installation height of the luminaires permits sufficient free space for the additional installation of electrical supply systems or air conditioning ducts. The Ballast is placed in an external housing.
The use of 10 primary reflectors and an additional concentric reflector in glare-reduced louver material MIRO-SILVER ensures all-round luminance limitation of L<1000 cd/m² at an angle exceeding 65° to the vertical in accordance with DIN EN 12464. This with a high efficiency rating of 63%.
For limitation of luminance, there are 10 primary reflectors and an additional concentric ring in the ring louver ®. Integration of additional halogen beams in the center shade enables various different light milieu designs and accents.

MIRO-SILVER® – the next Generation
Following in the wake of MIRO® – the aluminium industry world innovation among surface-finished aluminium coil products with a total light reflection of 95% – is now proud to present the next generation: MIRO-SILVER®.
Its unique claim: a total light reflection of 98%!

What's more, MIRO-SILVER® is characterised by excellent UV-C photo-stability and – like MIRO® – is resistant to corrosion and extreme temperatures.

MIRO-SILVER® in specular louvres
Because of the miniaturisation of specular louvres the light output ratio is going down and the number of multiple reflections is going up. To compensate this you have to use a reflector material with a maximum total reflection. Because of the small size of the microlouvre you have an extreme weight reduction for the aluminium.
Supplier

Frühlingstr. 15
86415 Mering
Germany