Product • 09.04.2008
Design and green: Occhio Pro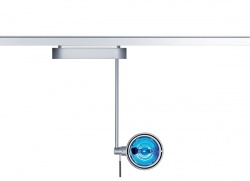 In professional lighting design, lighting quality, functionality and cost-effectiveness are very important criteria. The demand for lamp design increases as part of the interior decoration. Occhio Pro adapts the unique Occhio system for architecture and projects. Latest lighting technology and a large variety of different, interchangeable lighting components combine the joy of use of Occhio with comprehensive and continuous applications in professional environments. The several award-winning design of Occhio combines sophisticated, shapely flush-, surface- and track-mounted variants creating the perfect tool for professional lighting design.
At the light + building 2008, Occhio Pro was being presented in CDM applications. Occhio Pro is the most filigree design lighting system on the market, equipped with the highly efficient CDM metal halide technology. Highest lighting output with minimal energy consumption and great life span makes this technology the perfect solution for project environments.
Occhio Pro: the incorporation of design and efficiency in sophisticated style.
Awarded professionalism: Occhio Pro has already been awarded with the Lights of the Future Award 2008.
Supplier
Wiener Platz 7
81667 München
Germany