Product • 10.04.2008
DL 10: Light for Mentors, Visions and Tomorrow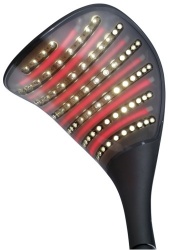 The DL 10 impressively demonstrates how outdoor lighting in the future will appear, and sets a milestone with this pioneering performance.
The Concept
The aim of the development of the DL 10 was to implement LED technology in such
a way that it is able to satisfy the demands for the illumination of prestigious squares, roads and city centres in accordance with current standards. The result is impressive. The first Siteco road luminaire incorporating LED technology represents a completely new luminaire generation, combining state-of-the-art lighting technology with visionary LED technology within a correspondingly innovative and functional design. With the DL 10, lighting according to standards for roads and squares with a pleasant white light colour can be implemented just as much as effective, coloured accent lighting, and for the first time with one luminaire.
The Design
An organically flowing form that ascends from mast spigot to luminaire head characterises the appearance of the DL 10. The construction of the luminaire body gives the impression of coming from one casting and is attractively graceful. This light impression is based upon the creative potential of the technology applied: LED lighting technology allows completely new housing forms and low construction heights – a strength that has been consequently taken advantage of with the design of the DL 10.
Supplier

Georg-Simon-Ohmstraße 50
83310 Trauneut
Germany