Product • 03.06.2008
Pendant luminaire JET-FLAT
Design: brodbeckdesign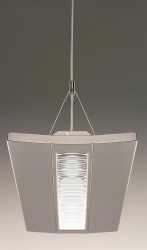 On the occasion of this years's LIGHT+BUILDING 2008 the Mering based LUDWIG LEUCHTEN KG presented a technical revolution with the brand new pendent luminaire JET-FLAT PE-ID DLH: This luminaire's shallow visible height of mere 16,5 mm could only be achieved by using a new type of electronic ballast specially developed for LUDWIG LEUCHTEN KG; JET-FLAT PE-ID DLH thus stands for the consistent return to the essentials. Our time demands technical solutions combining the awareness of limited resources and the need for energy conservation with discriminating aesthetic demands. With JET-FLAT PE-ID DLH the times of cumbersome heavyweights will sink into oblivion.

When shaping this luminaire, Stefan Brodbeck, a designer with a long history of successful cooperation with LUDWIG LEUCHTEN KG, was influenced and inspired by the architectural language of today and tomorrow: filigree and light, that is what the appearance was supposed to convey, verging on the limits of technical possibilities – reminding of aeroplane wings; a consistency reflected in the name.

But this luminaire should not only convince by its design in keeping with the times. An increased quality awareness among manufacturers of technical lighting ought to be reflected in a company's products: JET-FLAT PE-ID DLH has been developed for T-16 fluorescent tubes, providing for excellent light with the lowest possible energy consumtion.

The side reflectors and cross blades are shaped parabolically. At an emission angle exceeding 65° to the vertical the luminance limitation is L<=1000 cd/m². This all-round luminance limitation in compliance with DIN EN 12464 makes JET-FLAT PE-ID DLH ideally suited for all types of VDU workplaces, for offices and banks. JET-FLAT PE-ID DLH comes with a Y-shaped suspension set and a 3-pole mains cable.

The sheet steel body is powder coated, colours like DB 703 and RAL 9007 are available on option.
Supplier

Frühlingstr. 15
86415 Mering
Germany