Product • 11.04.2008
SlimLite CS - versatile light design that's right to the point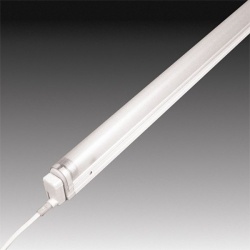 Creating leisure and shopping worlds which key into our emotions will become increasingly important in future. Whether in shops, restaurants or at trade fairs, customer expectations continue to impose increasing demands for an appropriate ambience and lighting concepts which offer a high degree of individuality and range of decorative functions. The new SlimLite CS linear lighting unit completes the proven SlimLite fluorescent lighting system range from Hera. These intelligent lighting solutions provide top quality illumination at all times while supplying a multitude of features to enhance the best in interior design.
The SlimLite CS is the ideal solution when it's important to create the longest possible strip lighting with the minimum dark zones. The lights are available in six different lengths (295 to 1495 mm) for a perfect match in any interior and can be interconnected conveniently and creatively using a simple plug-in system. Up to 50 lighting units can be coupled together, depending on tube capacity. The light systems can be screwed in - a real advantage when they are to be fitted to furniture, glass cases and displays, as they can be attached without the use of clips.
 
Retrofitting made easy
Retrofitting is also proof of the SlimLite CS's versatility. Further light strips can be added as and when required using miniature sockets and flexible plug connectors. The sophisticated clip system provides for easy fitting - even for corners at 45 or 90 degree angles.
 
Brilliant light power in a compact design
Equipped with a single T5 strip light and an electronic ballast, the SlimLite CS linear lighting system uses the very latest in lighting technology. The result is a very compact lighting unit, which provides flicker-free startup and operation every time. A color rendition of approx. 90 Ra sets products off for maximum impact. Fitted with a minimal size 16 mm tube, a vast range of options opens up for users. And from an economic point of view, the SlimLite CS knows how to impress with an average tube service life of around 24,000 hours.
 
Supplier

Dieselstraße 9
32130 Enger
Germany