Product • 03.06.2008
X-FLAT PE an extremely flat pendant luminaire
Inhouse design: Alexander Ludwig, Andreas Ringler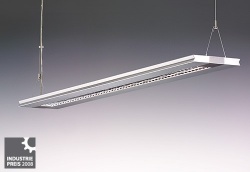 With a construction height of only 21 mm X-FLAT PE is an extremely flat pendant luminaire for T-16 fluorescent tubes. This exceptional layout could only be achieved by using a new type of electronic ballast specially developed and built for us.
X-FLAT does not only captivate with respect to its technical layout: Refracted in two halves, the letter X can be retrieved in the shape of the profile thus rendering to the product its distinctive elegance yet enhanced by a decorative shade at the front.
The sheet steel body is powder coated in DB 703, the decorative shade is in RAL 9006. Other colours available:
body in RAL 9007 – shade in DB 703
body in RAL 9016 – shade in DB 703
Two lamps version available on request.
The luminaire comes complete with a Y-shaped wire suspension set and a 3-pole mains cable.
The side reflectors and cross blades are parabolic in shape.
All-round luminance limitation is L<= 1000 cd/m² at an emission angle exceeding 65° to the vertical in compliance with DIN EN 12464. The luminaire is ideal for all types of VDU workplaces and for offices and banks.
 
Supplier

Frühlingstr. 15
86415 Mering
Germany