Company News • 05.04.2016
wnDirect victorious at the 2016 Slough Business Awards
250 guests joined together for the Slough Business Awards 2016 Gala Dinner at the Hilton Heathrow Terminal 5.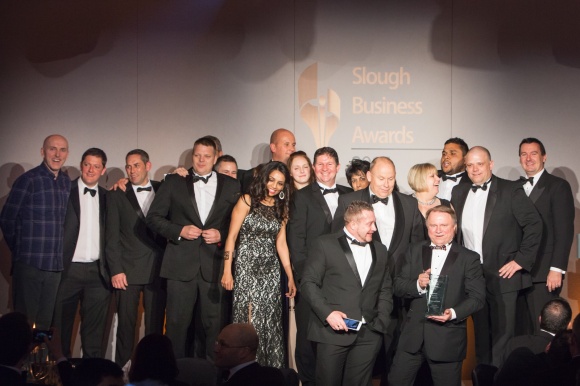 Source: Slough Business Awards
wnDirect has been crowned winner of not one, but two awards at the 2016 Slough Business Awards. Last week the company was presented with the 'Business of the Year' award and the 'Innovation' award at the Slough Business Awards Gala Dinner at the luxurious Hilton Hotel London Heathrow Terminal 5.
The Slough Business Awards, which are supported by fellow businesses and organisations in and around the Slough, Windsor and Maidenhead area, reward businesses for their performance, excellence and entrepreneurship across a number of categories.
For the 2016 'Business of the Year' award judges were searching for the business best able to demonstrate a commitment to customers and strong leadership that enables it to thrive in every respect. The winning business was also required to show a passion for innovation and be outstanding in every regard. For the 'Innovation' award judges were on the lookout for the best example of innovation, which has been developed and applied to improve product, service and delivers commercial performance. wnDirect was effortlessly able to meet the criteria for both awards and impressed judges with details of how its innovative services are helping retailers around the world realise their global aspirations.
wnDirect is now well established as a market leader in the UK and came to market with the attitude that international logistics solutions for retailers could, and should, be different. wnDirect felt that services had not kept pace with the growing eCommerce market and, as a result, were not responding to the industry's specific needs. wnDirect changed that. Over 22 million parcels later they now have a portfolio of leading online retailers benefiting from their fresh thinking.
Whereas other providers have made logistics their business, wnDirect has made 'international' its business and has carved a unique position in the market because of the breadth of innovative services it offers and the invaluable support it provides.
Chloe Harris, Director of Innovation at wnDirect, commented "We are delighted to have won these two Slough Business Awards. Recognition of this kind is incredibly rewarding as we work hard to be the very best we can, delivering a steady stream of innovations to our clients. However, to have this endorsed by the Slough Business Awards makes us very proud".