act'o-soft GmbH Informationssysteme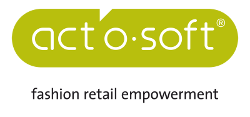 act'o-soft GmbH Informationssysteme
Brackweder Str. 51
33790 Halle/Westf.
Germany

Phone: +49 (0)5201/18047-00

E-Mail: post@actosoft.de
Internet: www.actosoft.de
Founding Year: 1997
Number of Employees: 11-50

act'o-soft: Clever software for sophisticated users

At the end of the nineties, act'o-soft reinvented Point- of-Sale with touch screen solutions it developed itself. What's our trademark? act'o-soft products are as their users need them to be. They flexibly adapt themselves to the infrastructure of the store. With the settings precisely configured for each branch, act'o-soft software is always on top form.
We are aware that there is such a thing as optimum implementation for each individual store system. act'o-soft develops compact solutions for all processes at the POS, back office and administration.

In addition to that, we are mobile solution specialists.
act'o-soft products are flexible, easy to operate and can be utilised universally. All processes in all branches can be integrated. Very little training is required. We are an innovative company based in Werther in Westphalia and we develop our software concepts for retail store chains. Our solutions, with more than 7.000 installations so far, are utilised throughout Europe.