it-werke Technology GmbH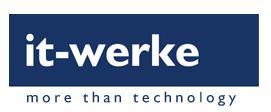 it-werke Technology GmbH
more than technology
Galgenbergweg 4
77933 Lahr
Germany

Phone: +49 7821 9206 700
Fax: +49 7821 9206 7015
E-Mail: /
Internet: www.it-werke.com/
Founding Year: 1996

Ideas and technology for turnover and customer satisfaction. it-werke solutions enable the retail sector to generate more turnover while increasing convenience and security on the consumer side. Some examples:
GO4Q mobile shopping. The smart combination of phones and QR codes provides for selling through windows and for guaranteed payment. No need to wait for NFC – GO4Q and access to new sales channels are just a download away.
VINGADO - biometric payment – less cash – more checkout speed. Successfully introduced in canteens and supermarkets.
iCARD – your fingerprint is your loyalty card. No plastic needed. Unforgettable and easy to handle.