News • 05.12.2017
Book sales bright for the holidays
Book sales are expected to grow 5 percent in the final weeks of the 2017 holiday shopping season after a flat 2016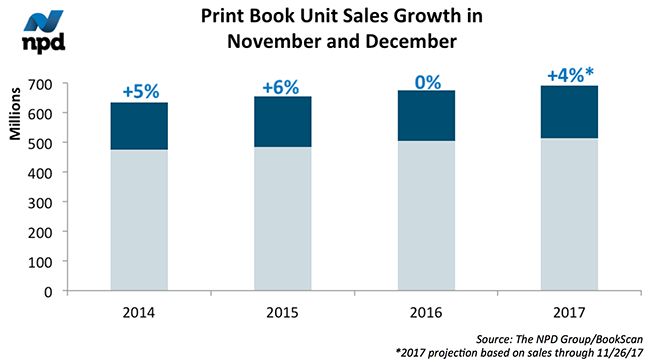 Source: npd group
While the annual unit sales growth of print books is expected to be slightly weaker this year than in the previous two years, global information company The NPD Group predicts a strong holiday season with five percent unit sales growth in the remaining five weeks. The print books market is on track to grow two percent in volume for the year, which is an underperformance against the annual growth rate of three percent in 2015 and 2016.
"2017 has been more of a standard year for the industry than last year, which had a number of surprises," said Kristen McLean, books industry analyst for The NPD Group. "While there have been several big titles introduced this year, there was no major hit like Harry Potter and the Cursed Child, which sold nearly five million print copies last year. At the same time, there was no election to upset the fourth retail quarter."
After three healthy quarters of growth, the U.S. Presidential election had a pronounced negative effect on 2016 book sales, and 2017 brought a return to normal. Book unit sales the week of November 12, 2017 were nine percent higher than last year's election week sales. However, Black Friday sales didn't quite measure up to last year, as book unit sales declined by three percent for the week.
Brighter holiday outlook
In 2016 overall book sales growth in November and December was flat compared to the same period in 2015. NPD predicts four percent unit sales growth in November and December this year. And 2017 is not just a return to normal for books — it's a return to normal across the entire retail continuum. NPD's "Holiday Purchase Intentions Report" anticipates holiday retail growth for all retail categories combined will reach three percent this year, which is more in line with 2015.
"While still experiencing solid year-over-year growth, replicating the holiday season of 2015 will not be an easy feat for publishers and book retailers this year," McLean said. "The 2015 holiday book selling season benefited from a huge lift in sales of adult coloring books, which hit four million units in December 2015 alone. This year's growth is being driven by a much more diverse selection of genres, authors, and formats."