Company News • 16.02.2017
Experience 20 Million floorings: increase traffic - boost sales!
There is really now way around FOTOBODEN™ at the coming EuroShop –
the World's No. 1 Retail Trade Fair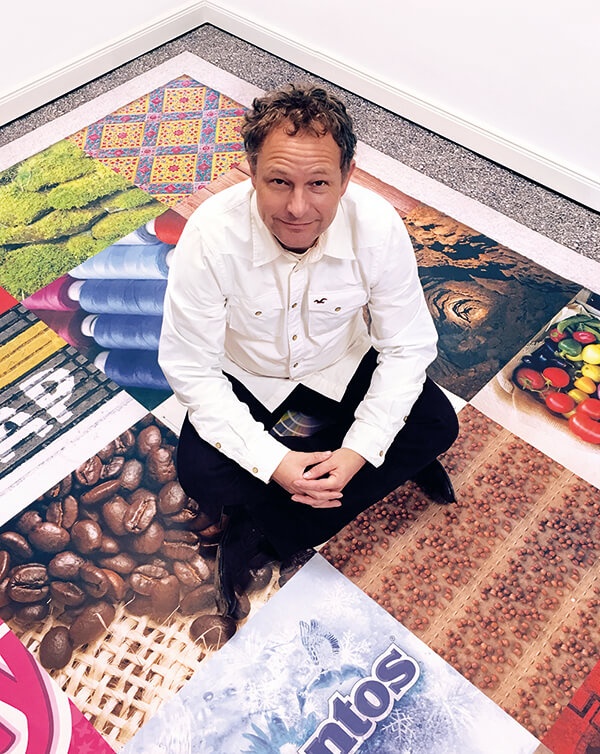 Source: visual united ag
Not only because the Kaarst-based company will be one of the biggest exhibitors at the trade fair with some 1,500m²of "covered" floor space in the truest sense of the word. Or because the giant logo of the trade fair at Entrance Nord, that all visitors use to enter or leave the premises, is made of this custom-printable vinyl flooring. FOTOBODEN™ is simply the all-round talent for marketing applications in retail, at trade fairs or events.
"This is also why we have several stands at EuroShop," laughs Timo Michalik, member of the board at visuals united ag and inventor of FOTOBODEN™. "Our flooring fits so many different segments – that we also fit various exhibition and product categories at the trade fair." Therefore the FOTOBODEN™ team in Hall 3, Stand 3D82 displays just as diverse products as their colleagues do at the main stand in Hall 10, Stand 10G78. Here visitors will also find live project presentations demonstrating the effect produced by selected floorings at the POS with the help of various examples. "FOTOBODEN™ is a booster when it comes to staging products and generating high retail sales as a result of increased visitor/shopper interest," adds Timo Michalik with conviction.
Simply follow the floor signs Made by FOTOBODEN™ at the trade fair or visit our various cooperation partners who like to rely on the expertise of FOTOBODEN™ to design their trade fair areas – at times with their own design, at others availing themselves of one of the 20 million floor designs contained in the catalogue of the company from Kaarst, Germany.
Some examples:
The fastest shop window in the world
Pioneer Trading Company GmbH (Hall 10, Stand 10D21I) presents the fastest shop window in the world: here a living display mannequin demonstrates in a true-to-life store window how to turn a wonderful winter world into a summery sunshine paradise in as few as 30 seconds – of course also with the help of FOTOBODEN™!
Found the Red Planet – thanks to FOTOBODEN™: for the joint stand of the European Association of Visual Marketing/Merchandising(VMM) and the College for Colour and Design Stuttgart (Hall 11/ Stand F02 and H02) FOTOBODEN™ creates a futuristic Mars landscape with stones, dust and craters. On five days there will be lectures on flooring trends in retail: on 5/7/8/9 March at 2.00 pm Timo Michalik will deliver a talk entitled "Bodenwerbung wirkt!" (Floor Advertising Works).
Extraordinary, modern, timeless: ESG Einkaufs- und Servicegesellschaft mbH (ESG) in Hall 4, Stand 4E24 selected a trade fair stand with a hip concrete look, needless to say, FOTOBODEN™ was a must-have to make the impression complete.
Fancy a break from the hustle and bustle at the trade fair? Then head for the stand with that coffee-house look complete with FOTOBODEN™ and visit the trade magazine m+a report in Hall 4, Stand 4E39.
Small yet refined: a 15 m²stand featuring a creative floor-wall combination from our own FOTOBODEN™ design catalogues was designed for beta-web GmbH (Hall 7, Stand 7E19).
FOTOBODEN™ is synonymous with large-format and photo-realistic prints boasting 1.8 b pixel per square metre on vinyl. With webs up to 3.15m wide one-piece floor coverings of up to 20 metres length can be realised as well as areas of 1,000 m² and more. The special feature: FOTOBODEN™ can be used both indoors and outdoors in almost any location and does not even show any signs of wear when exposed to strong loads by high footfall.
Possible applications are virtually unlimited. Be it for interior design, product staging, areas large and small or as a stand-alone design element: FOTOBODEN™ always directs observers' attention to the desired area.
Supplier

An der Gümpgesbrücke 26
41564 Kaarst bei Düsseldorf
Germany