Report • 11.09.2015
New ways to improve customer communication
Digital media at the POS are becoming increasingly popular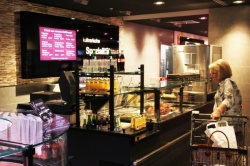 Source: NEXGEN smart instore
Customer communication is increasingly influenced by digital media at the store. Whether this happens via app on the customer's smartphone, on a large flat screen, on a small display at the checkout or on an interactive kiosk – in-store digital media provide retail with a large variety of opportunities to directly address the customer. Yet each one of these systems needs to be individually fed with content.
Not every digital medium is suited to present the same contents. That's why retailers need to consider which messages they want to communicate in what place and how. Should this be impartial product information or advertising? At the same time, it should be clear who produces and delivers the contents so that the right contents can always be viewed on the right screen.
Smartphones in the hands of customers: the tiniest screen
The use of retail choices on the smartphone is becoming increasingly popular. According to a study by Rakuten Business Intelligence in September of 2014, the percentage of users with mobile access to these options is already at 33 percent. It is unlikely that this development decreases since a large number of customers today already uses this kind of device. Mobile apps and the corresponding mobile marketing can help retailers to use this trend and generate an added benefit in the form of additional sales and increased customer loyalty.
Stores themselves are also getting a digital upgrade. When you visit a regular supermarket, you immediately notice how classic POS media such as posters and information boards have been replaced by digital screens in many areas. The primary objective here is to communicate advertising messages directly at the shelf or the counter. However, digital terminals can also be used to convey product information instead of classic product advertising. This way, retail creates an additional range of information that most customers appreciate.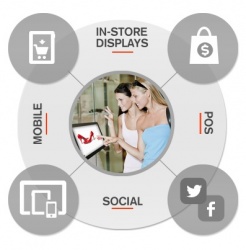 Source: AOpen
Large displays often serve to convey general information and advertisement
Large screens that are positioned at central locations in the store are especially well suited to highlight advertising messages, infotainment, and product trailers. They provide the opportunity to continuously utilize already produced TV or print ads at the POS. Custom-made in-store TV is also common with many retailers and offers customers relevant information in addition to television commercials.
Another popular display alternative are digital scale displays, increasingly found at service counters. For the most part, retailers use them to present product information such as details about the country of origin and ingredients of the product, recipe suggestions, and tips for a healthy diet or to cross-sell by recommending complementary products.
Kiosk information systems: integrating the online shop into the brick-and-mortar store
In the retail world, kiosk systems have already become indispensable as information terminals and an intelligent multichannel tool. Aside from the added information they provide, their big advantage is the option to link the online shop with the brick-and-mortar store and generate additional sales.
"Just like an online store, the kiosk terminals are able to show the complete product portfolio and support customers in their search for the right product. At the same time, the customer also perceives the new options as better service: they no longer need to wait for a sales associate when they look for additional product information or alternatives. Plus, customers also no longer need to get in line at the checkout and are able to complete their purchase right on the sales floor. In this instance, the emotional experience of products in the store is combined with the advantages of the Internet," says Frieder Hansen, CEO of Pyramid Computer GmbH, in our interview on this subject.
Digital information systems increase the quality of service at the POS
One example of the effect of digital media at the POS to increase sales is the Media Markt in Bern. "We want to offer a shopping experience that's only possible here in this store," explains Mischa Hollenstein, Managing Director for Media Markt Bern AG. "Our customers are supposed to perceive consulting services as genuine support for their buying decision." That's why the store relies on screens of various sizes and terminal stands that provide the complete online and offline product selection including all information.
Product group related homepages with a clear product categorization offer guidance for customers by making it easier for them to get oriented. Products available online can be immediately ordered via QR code using a smartphone. Associates can also access all of this information on tablets and advise the customer with even more competence. In doing so, these digital solutions –when they are used in a targeted, coordinated fashion and if they are being linked – provide an added benefit in terms of service and experience not just for the customer.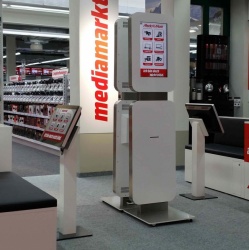 Source: xplace GmbH
"A cross-platform lends itself to this. Today there are already several solutions available that integrate several channels and automatically adapt contents to the used end device. There are also programming tools especially designed in the mobile area with which retailers are able to program their own app with extensive features. What's crucial is that all solutions are tied into a comprehensive backend system. After all, that's the only way to retrieve data via all channels – regardless of that's via the app, an in-store terminal or the POS system," stresses Roland Fesenmayr, CEO of OXID eSales AG, in an interview with iXtenso.com on omnichannel touchpoints.
One thing is clear: digital screens at the POS are effective when they provide the customer with a strong additional benefit. Information options are gladly accepted while advertising messages also trigger the urge to buy. During a survey of multiple food retailers, the EHI Retail Institute discovered for example that customers are more willing to purchase expensive foods if they receive more information about them.
Author: Daniel Stöter, iXtenso.com