Product • 13.08.2008
Odo's Castle - Interactive touch screen play terminal for children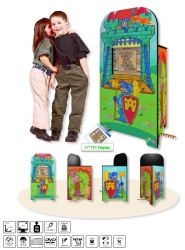 With Odo's Castle OrgaControl Amusement Ltd presents the first interactive touch screen play terminal for children in a special triangle design, especial designed for instore play areas and the retail market. The lovingly designed cabinet in a Knight-Design was specifically developed for the age group of 3-12 years.
The device is the most elaborate and sturdy machine in its class: the wooden casing is fully printed (digital photo print) and laminated with a special plastic coating (HPL) up to 1mm thick and the system comes with a 17" TFT high secure touch screen display. The ready to plug in machine offers pure gaming fun and requires a standing area of just 67 x 58 cm. Because of its very flexible and child-save cable-duct above or below the device is also adapted for a free-standing placement.
Upon request we can supply the casing in your own design.
Supplier

Bleichweg 1a
57610 Altenkirchen / Gieleroth
Germany