Report • 28.10.2015
What we hear is what we feel: Guiding the buying decision process sensibly
Interview with Professor Monika Imschloß, University of Cologne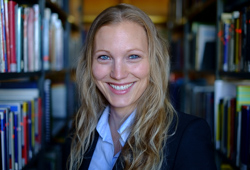 Source: privat
For retailers, these insights could mean brand-new kinds of targeted sales promotion at the POS: our perception on how things feel to us can change depending on what type of music we listen to. Psychologist Professor Monika Imschloß of the University of Cologne discusses the findings of her study with us.
We have always known that music can affect us emotionally. However, we probably didn't know that it can make a towel feel softer. But it's true. Professor Imschloß, how did you find out about this?
We let students feel textiles while they listened to music with headphones. They didn't know this was also about the impact of music and not about getting otherwise distracted from other sounds. We discovered that they rated products as softer when they listened to softer music and vice versa with hard music.
How do you differentiate soft and hard music?
We have conducted interviews to find out what people perceive as soft and hard music. Time and time again they subsequently mentioned similar parameters on how this would sound to them. For example, they perceived soft string instruments with few rhythm changes and smooth transitions as "soft". Music with lots of percussion instruments, hard transitions and frequent rhythm changes appeared "hard". The study participants also sang, hissed and hummed related sounds to demonstrate their perception of the terms.
This distinction between soft and hard doesn't just apply to hearing but also to the haptic perception, the process of recognizing objects through touch?
Yes, that' correct. In the second step, the terms were transferred to haptics. What materials do people envision when they are asked to describe soft music? Here, people mentioned examples like fine sand for soft music and coarse sand for hard music. Haptics and music can be described with similar terms.
You were able to gain some interesting insights with this knowledge ...
Yes, even as a scientist I was surprised that music actually has this kind of impact on our haptic perception. For retailers, this can result in new ways to influence the buying decision in the store.
How is that?
Test persons actually perceived textiles as softer and of greater quality under the subconscious influence of music. It also increased their willingness to pay more for a product.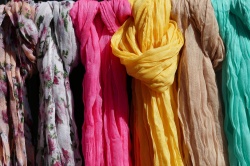 Source: FotoHiero /pixelio.de
Do retailers actually know about these properties of music?
No, most of them are not aware of this. In most stores, music is used in a more intuitive manner, though retailers wonder if customers feel comfortable in their stores with this music. They also understand that studies show how German music, for instance, promotes the purchase of German merchandise or Italian sounds benefit the purchase of Italian products. There are companies that create entire playlists for stores that are then also available online. However, the primary focus here is on branding.
This type of music in the store is rather obvious and the listener is very conscious of it. The relationship between music and haptics can result in a far more subtle effect. What do retailers need to consider here?
Once the listener is made aware that the music is supposed to influence him/her, the effect goes away. This is something we also discovered in the experiments. The music should therefore not be too striking. A good way to find out what type of music works for my store is to simply try things out and ask the employees. After all, they are the ones that have to listen to the music all day long. Irritated associates are bad for business.
Those who are not just listening to their intuition but factor in the cultural listening habits of their target audience and include the effect on merchandise have an effective marketing tool.
Your study also established a link to online shopping. So far I have not come across an online store where I hear music. Is that still a gap in the market?
Even though we actually noticed in our study that music can also impact the haptic perception of a product online, I would not recommend its use in an online store. Here, consumers want to process information and music would be disruptive. Some retailers have already attempted this without success. eBay is among them. I see the use of these research findings more in the area of actual retail environments.
Retailers can learn a lesson on the skilled use of multisensory resources from industries like hotels and service sectors in banks – like the Commerzbank flagship store in Berlin for example.
Interview: Natascha Mörs; iXtenso.com