Company News • 07.07.2016
Award-winning design: Bizerba MC 500 wins Red Dot Award
Bizerba's MC 500 self-service scale has been awarded 'Red Dot Design Award' for its fresh design concept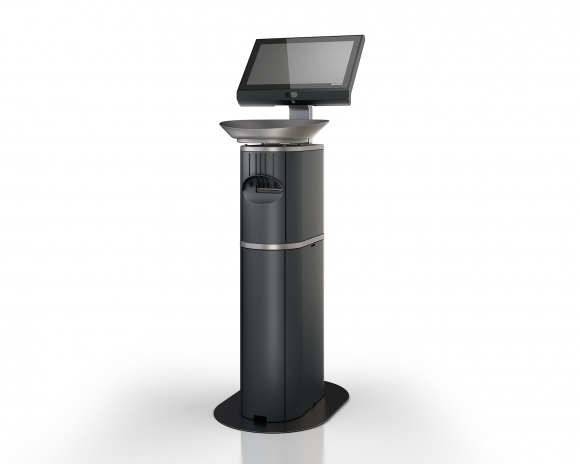 Source: Bizerba
Bizerba's MC 500 self-service scale has been awarded the 'Red Dot Design Award'. The jury honored the device with an 'Honourable Mention 2016' for its fresh design concept. According to the jurors, the closed shape of the MC 500 forms a creative entity that can be placed even without any additional furniture. The matt-finished surface of the device was also valued as a particularly felicitous creative aspect.
The MC 500 PC scale with an integrated floor stand was introduced in early 2016 for self-service concepts in fruit and vegetable departments. As it does not require any pedestal or extra table, the PC scale naturally fits the appearance of the supermarket. In addition, the MC 500's stand-alone design meets highest convenience expectations. Customers can quickly orient themselves and find the right product using the large 15.6" color touch display.
The scale can be ergonomically operated while standing, but it can also be reached conveniently while sitting: thanks to the scale's slim, oval floor stand, wheelchair users can closely approach the device to operate it from the front or the side. Thanks to the Easy Clean surface with its matt finish, the self-service scale can be cleaned much more quickly and easily by employees.
In order to ensure the uninterrupted availability of unattended scales in a self-service environment, an end-of-paper alert is timely issued by a special function. Furthermore, the scale's floor stand can be opened from both sides in order to store replacement label rolls, bags and cleaning material.
Supplier

Wilhelm-Kraut-Straße 65
72336 Balingen
Germany