Product • 30.03.2005
Canaima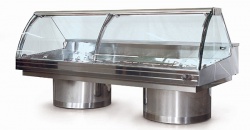 Mondel has surpassed itself in designing and manufacturing fish display cases. Our latest creation is canaima. Here we combine the high technology of our Sentosa model with the innovative design featuring the Coiba line.

Canaima is the only fish display case that combines the piston-suspended glass with the elegance and efficiency of the innovative design of Coiba, where fish display cases enrich interior decors and give prestige to the fish shops and restaurants where they are installed.

Mondel has become a leading designer and manufacturer of fish display cases because of the values espoused by the Company, such as focus on the needs of workers and end customers. Mondel constantly researches new materials and technologies to respond in an innovative manner to the desires of those who work with our products. Design of this innovative canaima model is a precise result of this endeavor to improve.

Mondel, thanks to this new fish display case, further develops the entrepreneurial philosophy that always guides the Company in its business and generated this pay off: "Fish to be seen, fish to be sold".

Canaima has lines and forms that capture customers' attention. A special show-case illumination system makes the facility, and consequently the product, a luminous, fresh and clean point of appeal. This model is not only handsome but also extremely functional: piston-suspended glass lets workers work better and faster, both when displaying and selling products and when cleaning the facility. Canaima not only looks fresh and clean thanks to its special design and lighting: Canaima is fresh and clean because workers can easily access every point of the display case, and everybody knows how important cleanliness is not only to attract customers to the product but also to earn their trust.
A fish display case like canaima exhibits products in the best possible manner, letting customers perceive the high quality of the products served and enticing them to buy such a sure and excellent appearing product!

Canaima, like all Mondel models, comes in a wide and flexible range both in terms of technology and in terms of size. Canaima can adapt perfectly to supermarkets and to the needs of the catering trade or small points of sale, both with linear and with curving layouts.
Supplier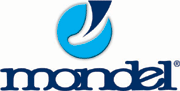 Viale dell' Artigianato 9
35047 Solesino, Padova
Italy