Product • 24.07.2007
Carucco - a new counter generation for Europe


The term Carucco derives from the product names Carissa and Nabucco, two successful refrigerated counter series produced at the Carrier facility in Torreglia/Italy. These were launched in 1998 and 1999 and are now firmly established in the European food retail sector. Still, the needs to be met by modern store technology are in a permanent state of flux, reflecting changes in retailing. More than 500 standard modules have been developed hitherto, including different lengths, heights, superstructures and technologies. So Carrier launched countless studies in recent years to examine the positive properties of refrigerated counters as well as other features worthy of improvement, also from the angle of retailers, operatives and consumers. What has emerged is a new refrigerated counter consisting of five types which, in their technology, esthetics and modularity, take refrigerated counters to a new performance level. The highlights of the new product line are:

Product presentation  more merchandise, less merchandiser
Quality  Material and component test, field test, absolute market maturity
Economic efficiency  optimized energy values

Carrier has implemented current trends in the Carucco Line with a design based on simple modern lines. The new style lends itself to trouble-free integration into the architecture of existing points of sale. As value add for retailers, the established merchandiser widths of 850, 900 und 950 mm have been extended to include a new, smaller width of 750 mm. The base is consciously given an open design, so that the space is easy to clean, while the unit looks light and weightless. All Carucco Line counters boast innovative refrigeration technology and energy-saving solutions, building up on high-performance fans, fan speed control and the removal of anti-condensation panels. Developments include the new control unit that governs the performance characteristics of the overall unit to ensure efficient operation. A field test conducted over a period of 12 months in various European retail stores involving 250 counter units and some 500.000 operating hours went off without one single error message.

Carrier Corp. is the world's largest supplier of heating, air conditioning and refrigeration solutions, with operations in 172 countries. The product range extends from compact, transportable refrigeration units all the way to high-performance refrigerating machines. Carrier is a subsidiary of United Technologies Corporation, the Hartford, Connecticut-based provider of a broad range of high-technology products and support services to the aerospace and building systems industries.
Supplier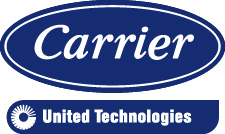 Sürther Hauptstraße 173
50999 Köln
Germany