Company News • 13.07.2012
Dolce Vita, a proposal by the Italian taste
Dolce Vita is the new line of neutral, hot and refrigerated counters for the Food world.
The new wood finishes and the wide range of aesthetic details make it possible to evoke the taste of the craft tradition of the historic Italian bakeries and pizzerias.
The functionality and attention to details, together with the best technology of heat and refrigeration, makes Dolce Vita the ideal product for the realization of fast food outlets such as fast-food restaurants, cafeterias, spaghetterias, snack bars, sandwich shops, kebabberias and take-away.
Counters Dolce Vita blend harmoniously with the wall display systems of Mepsytem, while also allowing the fitting of bars, wine shops and delicatessens. All in a perfect marriage between tradition and modernity.
See the new catalog Dolce Vita is very simple: fill the form with your details and you can download the electronic version for easy viewing on the screen of your computer or mobile device.
Supplier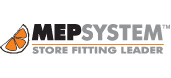 Via delle Querce 7
61040 S. Ippolito (PU)
Italy