Product • 30.04.2010
Filigree looks but still totally robust
High levels of comfort and attractive materials are standard features of all products in the TERRAZZA collection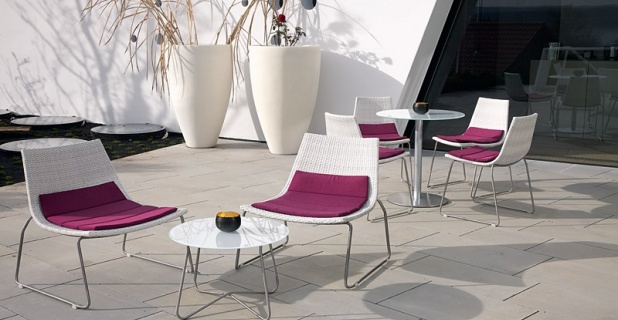 New in the 2010 TERRAZZA programme is the light and airy T*100 ** series. The delicate stainless steel framework in combination with finely woven polyethylene bands gives this furniture a filigree appearance but also makes it immensely robust. The models, with their unobtrusive profiles, enhance restaurants, bistros and bars or make fine solitaire pieces with the matching tables on the terraces of hotel apartments, and in lounge and wellness areas. These new models, in natural white and coffee, are extremely versatile and flexible: they cope well with outdoor use, are easy to maintain and can be stacked. Colour and comfort are provided by the matching non-slip cushions in elegant beige-grey, coffee and violet. The design of the modern, broad lounge armchair (TF0100**) in combination with the matching lightweight table frame (TTC100 IN) at seat height generates a very special atmosphere. The table top shapes and colours can be chosen at will to fit well into any indoor or outdoor hotel or restaurant setting.
The TF0900 **armchair has a new, cubic design in glossy black or brown polyethylene weave and particularly slender aluminium feet. For maximum sitting comfort it is possible to purchase matching cushions in natural and violet colours. Light, airy and violet - the colour of the season - the Terrazza chairs are made of high-tech polyester weave (Models TS 0500 VI, TF 0500 VI, TS 0200 VI and TF 0200 VI). When used in combination with the new high-gloss, totally monochromatic tables of the Modular System III they are sure to be a real visual outdoor highlight of 2010.
For the 2010 outdoor season, GO IN has expanded its range of chairs with individual arm rests. The powder-coated aluminium frames are now also available in black (Model TF 0320 SK). With the new weave colours in copper and copper-black and the coloured arm rests the models TF 0310 KU and TF 0320 SK will be extremely eye-catching and will create a modern feel in any setting. The new TF 0800**armchairs are now available in black and white. The invisible aluminium framework is covered in durable high-tech polyester weave. The chairs are fitted with a cushion in a matching colour as standard, offering optimum comfort for all outdoor applications.
High levels of comfort and attractive materials are standard features of all products in the TERRAZZA collection. Chairs and bar stools are made of powder-coated aluminium, steel or stainless steel. Seat, back and lounger surfaces consist of broad weave polyethylene-based synthetic fibres or an extremely durable polyester weave. Both of these materials are noted for their high tensile strength, waterproof qualities and UV resistance. The chairs can be customised by adding the print of your choice to the polyester weave. Almost all models can be easily stacked. The visually striking and equally practical TERRAZZA COLLECTION offers the perfect solution for modern but comfortable furniture for use on terraces and other outdoor areas.

Supplier

Justus-von-Liebig-Str. 3-5
86899 Landsberg am Lech
Germany