News • 12.12.2017
Meijer unveils newly-remodeled Rockford Supercenter
22nd Midwest location to be remodeled this year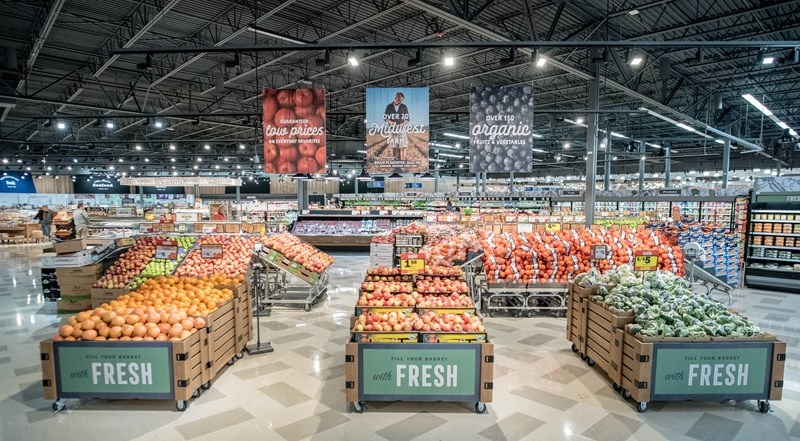 Source: Meijer
Meijer celebrated the completion of this year's 22nd newly-remodeled supercenter today in Rockford, Mich. The updated store has been designed to adapt to the needs of today's customers, with an enhanced prepared foods area for grab-and-go convenience that offers Pan Asian cuisine, a pizzeria, fresh sushi and a sandwich shop.
In 2017, the Grand Rapids, Mich.-based retailer aggressively remodeled stores in key Midwestern markets, such as Cincinnati, Louisville, Indianapolis, and suburban Chicago. Six Meijer supercenters in Michigan alone were updated, including Mt. Pleasant, Grand Rapids and in the Detroit area. This year's remodel investment means that Meijer has now remodeled more than one quarter of its 235 stores in the last two years.
"We continue to focus on updating our stores to bring the best retail experience to our customers," said CEO Rick Keyes. "This was a major remodel, and we are very pleased to make this investment and renew our commitment to Rockford and the Algoma Township community."
Updates to the Rockford supercenter began in June and were completed in six months, following Leadership in Energy and Environmental Design (LEED) standards. Improvements include an enhanced store layout with an updated pharmacy area, expanded grocery and health and beauty sections, updated apparel department and an all new pet department providing a specialty pet store feel.
Key updates also include lighting, heating, refrigeration and parking lot improvements. The remodeled 192,000-square-foot Rockford store also provides the Midwestern retailer another flagship location, where the company can test new innovations and programs for consideration at other stores.
The company celebrated the new store's completion with a ribbon-cutting event, followed by remarks from Meijer officials and State Sen. Peter MacGregor, and featured performances from the Rockford High School Pep Band.
"Our customers in the Rockford community have been very patient during the last six months, so we're very pleased that they can finally enjoy the benefits of this great new store," Keyes said.