Report • 02.08.2010
Supermarket Chain Spar builds an Energy-Saving-Supermarket in Austria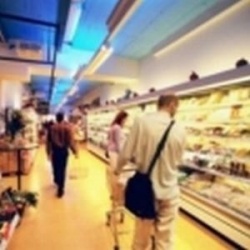 Supermarkets discover ecology is growing. Wal-Mart is building a large energy-efficient cooling logistic center in Canada, Rewe was rewarded by the trade association HDE for its green supermarket in Berlin with the rating "Shop of the year" in February and in May, Spar in Austria celebrated the ground breaking of a store, which only uses half the energy of a regular branch.
The grand opening of the Spar-supermarket in the Austrian Murau is planned for the fall of 2010. It will have1,035 square meters of total floor space, of which 743 square meters are used as a sales floor. It will be the first business property which is gold certified by the Austrian Society for Sustainable Real Estate (ÖGNI). The ÖGNI is an initiative of businesses and institutions, which wants to encourage sustainable building, planning and operating of real estate properties in the Alpine nation. With a certification system of international standard, properties that are especially environmentally friendly and conserve resources as well as respect economical and social requirements are being awarded. In this way, a contribution to climate protection and to achieving emission goals should be made. Spar is the only food trade corporation who is also an ÖGNI founding member.
All in all, Spar in Murau wants to cut down usage by about 80 tons of CO2 each year. This equates to the consumption of 26 households. To achieve this, the building needs to be planned just like a passive house. Zumtobel supplies the lighting. Inside as well as outside, energy-saving LED lamps and LED light strips are being used exclusively.
Klampfer Elektroanlagen (Klampfer Electrical Systems) from Leonding by the Danube installs a photovoltaic facility and the energy- building control system. By means of ASKI-load management for heating, air conditioning and lighting the entire energy consumption should be lowered.
Supermarket refrigeration units consume a lot of energy. Hauser from Linz should assist in this. In Murau, the alternative cooling agent R 134A or the natural cooling agent CO2 respectively is being used. All refrigeration units are closed with covers.
Besam installs sliding doors, through which as little cooling energy as possible is allowed to leak to the outside. The public utility company of Murau will supply hydroelectricity; an E-service station for electrical cars is also scheduled.
The installed equipment is also engaged in the decision to go green: The oven in Murau saves 50 percent more energy compared to regular appliances; the combination steam oven saves 25 percent and the new bottle return machine 20 percent. While choosing a cash registry system, power consumption was also a factor.
"Energy saving has long been a requirement for us and some of the now implemented measures in Murau have already been installed separately in several Spar locations," says Hans Reisch, Chairman of the Board of Spar Austria during the ground-breaking ceremony in early May. He affirmed that the market in Murau will not be a stand-alone climate protection project. "With each new construction or renovation of a branch, Spar reduces energy consumption by at least a third by applying new technologies. We also continuously test energy innovations in our projects to produce the greatest possible benefit for company, environment and society with positive results".

Supplier
Lagerstraße 45
64807 Dieburg
Germany

Schweizer Straße 30
6850 Dornbirn
Austria