Product • 10.11.2008
Vertigo - a modular system, which is able to satisfy all your fitting requirements
It delineates spaces with clean, sinuous lines, creating areas with bold characteristics; it also displays to perfection, using light and elegant designs. This is Vertigo, a modular system by Mepsystem, which, with its versatility, is able to satisfy all your fitting requirements. A contemporary, dynamic design that can be fully customised in terms of the choice of materials. The front panels are available in wood and glass, with the possibility to insert logos and signs and back lighting.
Two solutions for two special effects.
Vertigo Plano has smooth surfaces with clean-cut, refined lines; Vertigo Dune has a special undulated finish that gently follows the sinuous design of the counter. Either choice is bound to create a distinctive effect.
Supplier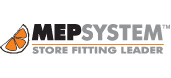 Via delle Querce 7
61040 S. Ippolito (PU)
Italy