Report • 01.11.2012
Access Control: Who is allowed to go in and who isn't?
Integrated solutions are becoming more and more important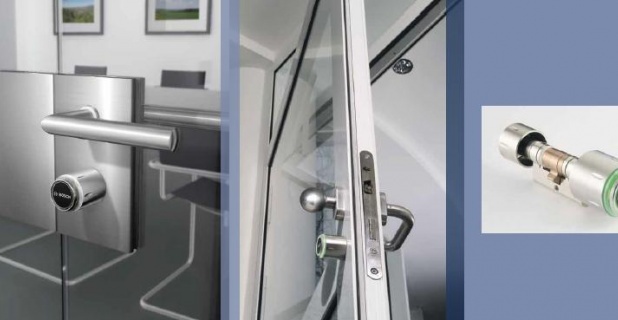 One important aspect of building security is access control. The job has many aspects. Single source solutions are in great demand. Every year, EuroCIS shows what this means: many exhibitors cooperate with other partners or increase their portfolio with their own means. Mechanical and electronic access controls grow together; software is becoming increasingly important in management and analysis. Local well-trained inspectors are also crucial.
The more doors, buildings and facilities are being included in a central control system, the more complex the system becomes. That is why retail expansion is a major challenge. Is the old technology upgradeable? What is the cost trend? Can the sensitive entrances in stores be controlled online? This is not just about additional buildings and doors, but also about additional authorizations. People with security clearance, regular employees and vendors – many users have different clearances. Managing these generates operating expenses later on.
The usual boundaries between providers of mechanical and electronic access controls become increasingly blurred. Software companies and door and equipment manufacturers cooperate to be able to offer services from one source. They more and more turn into security advisers, knowing that a security concept is only as good as its weakest link. Security guard companies also expand their services. They consult, install surveillance systems and provide the security staff.
Integrated security solutions are in demand
EuroCIS shows how exhibitors expand their range of goods and services. One example of this is Bosch Security Systems. The Bosch subsidiary from Grasbrunn near Munich has expanded its access control portfolio. "Bosch takes this step forward to also further expand its position in the strongly growing mechatronics market", says the customer magazine "Safety". The prerequisite for smooth and reliable functional capability of door solutions is said to be the seamless integration of mechatronics, access control, time recording and escape door control. That is why Bosch offers a complete and coordinated access control solution with electronically operable cylinder locks and striker plates as well as scanners, terminals, controllers and software under the trade name "Matrix".
ADT talks about "intelligent security". By now, the international Tyco conglomerate owns this longtime German EuroCIS exhibitor. The company group strives towards integrated solutions and services centering on security, fire prevention and life-saving services. It wants to offer its customers synergies through comprehensive building and management systems for more security and improvement of process sequences.
Keys have many drawbacks
A classic in access control are safety locks and special keys. Handing them out and returning them given the frequently changing staff, involves high administration costs. Making additional keys is expensive. It gets even more expensive if a key is lost or stolen. In that case, all locks and keys have to be replaced. Many employees holding company keys do not feel comfortable if they think about this risk. Aside from that, there is the risk of criminals making a duplicate key.
"Cards always provide more security and efficiency", says Stephan Seifert, Managing Director of Sales and Service at Gunnebo Germany in a EuroCIS interview in the spring."If they are lost or stolen, they can easily be blocked from a central spot." At this point, the new near field communication can also be used for access control. NFC-based authentication means more convenience for the user. You just need to place the card with the radio chip in front of the device. It doesn't even have to be taken out of the wallet.
Innovations for legitimization
Even though cards with magnetic strips can be easily and cheaply replaced, their disadvantage is that they can easily be copied. "Those who want more safety use code locks", says Stephan Seifert. "Electronic high-security numeric combination locks are a smart solution particularly for the sensitive areas in retail." The entryways to the back office and the cash vault can be safely and efficiently managed this way. They work with a personal identification number – a PIN – and one-time codes. These codes open the lock up only once during a specific timeframe after entering the PIN. They are automatically created via a central management platform and can for instance be sent to the user via E-Mail or as a SMS text message. This way, logistics service providers can also gain safe access to the back office or vault area.
Fingerprint recognition is getting better and better. Suppliers work on reducing the error rate even more. The crux: only things that are 100 percent perfect are safe. That is why the fingerprint so far is rarely being used as sole verification, but you always carry your finger around with you and it cannot be forged. Thermal sensors detect if criminals use artificial copies. Eye identification systems with iris scan technology are more complicated in their application. They work more slowly and visually impaired people have to take their glasses off.
Human resources management and access control
Gunda Cassens-Röhrig, member of management at GFOS in Essen, answers our questions about access control in our interview on this focal topic. She draws attention to the combination of access and time registration for employees coming and going. GFOS offers workforce software for this, which can be combined with security software.
The second interview takes a look at retail from the outside. Dr. Harald Olschok is the Chief Executive Officer of the German Federal Association of the Security Industry (BDSW) and the German Confederation of Security Systems for the Transport of Money and Valuables (BDGW). Olschok explains how to find good service providers and what detectives or doormen are allowed to do. He acknowledges that the security industry has to work on its image and demands two-year training for retail security personnel. Retail is not looking for muscle men, but for people who know the tricks of criminals just as much as the options of modern technology.
There are scores of qualified providers of access control systems. The German National Association of Manufacturers and Installers of Security Systems (BHE) or the Trade Association Security Systems at ZVEI (German Electric and Electronics Manufacturers' Association) provide multifaceted information on this subject. One has to keep in mind that customer needs and internal conditions vary a lot.
René Schellbach, iXtenso.com
Supplier

Robert-Bosch-Ring 5 und 7
85630 Grasbrunn
Germany

Am Lichtbogen 9
45141 Essen
Germany

Carl-Zeiss-Straße 8
85748 Garching
Germany