Company News • 28.04.2016
Actionable insights into what retailers and customers care about
SPS Commerce Fulfillment advances beyond EDI for the digital retail era
SPS Commerce has unveiled the latest solution for the digital retail era,SPS Commerce Fulfillment. Retail industry leaders recognize the need to advance beyond EDI to capture the intelligence and actionable insights needed to keep pace with today's digital retail shopper.
SPS Fulfillment achieves this by optimizing order orchestration to streamline product delivery, the top priority of today's retailers and suppliers. Unveiled today at the SPS Commerce In:fluence 2016 conference, SPS Fulfillment is the first fulfillment solution that overcomes legacy systems and the limitations of EDI allowing retail to optimize their omnichannel strategies to focus on profitability and growth.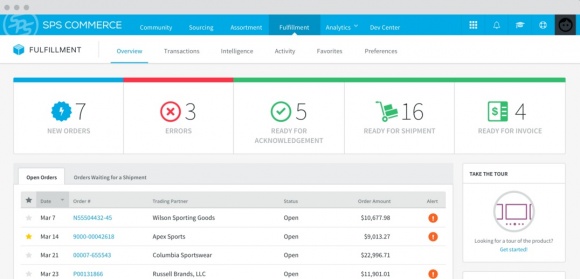 Source: SPS Commerce, Inc.
SPS Fulfillment provides actionable insights into what retailers and customers care about — from inventory levels to order status to shipment details to payment and returns. All information on any aspect of an order is accessible on any device to empower customer service, warehouse and other staff to positively impact order completion.
"It is a new world as consumers are clear and unabashedly expecting retail to be everywhere and orchestrate their orders exactly as they desire," said Archie Black, president and CEO of SPS Commerce.
"The EDI solutions of the past are not equipped to keep pace with the needs of today's consumer, as they lack the agility and insight needed by retailers and suppliers. SPS Fulfillment is dramatically different and offers the intelligence to drive profitable order orchestration. It's fulfillment reimagined."