Report • 28.10.2015
Albert Heijn opens first self-checkout supermarket
Staff has time to help customers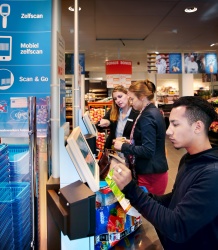 Source: Albert Heijn BV
In October, the Dutch supermarket chain Albert Heijn opened its first supermarket in Amsterdam which relies 100 percent on self-scanning and self-checkout by the customer.
In the new supermarket at the shopping street Weteringschans customers can use different methods for self-checkout: Hand scanners supplied by the retailer, "Scan&Go" self-checkout terminals and even their own smart phones.
Three payment ways are available
At the self-checkout lanes, the products are scanned at the end of the shopping as usual. With the handheld scanners or his smart phone, the customer can scan products directly at the shelf and tuck them directly into his bag. He then only has to pay the grand total at the end of his purchase. At the same time he always has an overview about the overall cost of the products he wants to buy.
Employees with more freedom
There are just as many employees in the store as usual, but because they do not have to man the cash registers, they can use the extra time to help customers with self-checkout or offer other services. They welcome customers, answer questions and carry out the necessary checks on the sale of alcohol and tobacco.
Albert Heijn has already started first experiments with various self-checkout methods in the 90s and fully equipped seven of its stores with "Scan & Go" terminals. The findings from the new market in Amsterdam will soon be incorporated into a study that examines which self checkout methods are particularly well received by customers.
Author: Daniel Stöter, iXtenso.com