Company News • 27.10.2015
APG Cash Drawer and Cash Bases recognised with prestigious PoS industry awards
Global cash management solution companies awarded respective Emerging Vendor and Retail Fraud awards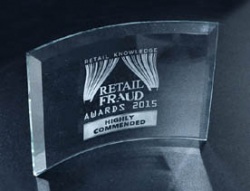 Source: APG Cash Drawer, LLC
APG Cash Drawer, LLC., worldwide manufacturer of mobile cash drawer solutions and other POS related products, was recently a recipient of Ingram Micro's 2016 Experience Vendor Award - Emerging Vendor (Specialty).
Awards were presented to 20 vendors during the annual ceremony on October 7th at Ingram Micro's new headquarters in Irvine, CA. Additionally, APG's recent merging partner, Cash Bases' SMARTtill technology was highly commended for the Retail Fraud Awards - Most Innovative In-Store Product on October 8th in Leicester, UK.

The Experience Vendor Awards are given to vendors who collaborate with Ingram to deliver exceptional experience, to shorten the sales cycle and to set higher standards of excellence in execution across the technology lifecycle. "We are honoured to have received this award and for the continued support from Ingram Micro, Inc.," stated Ann Klein, Distribution Channel Manager at APG. "In our rapidly growing marketplace, partners like Ingram have expanded our global reach and we are appreciative of the continued value they provide in assisting us to capitalise on offering innovative POS technology to our customers today and in the future."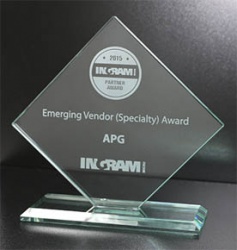 Source: APG Cash Drawer, LLC
At the Retail Fraud Awards, Cash Bases'
SMARTtill Cash Management Solution
was commended in the Most Innovative In-Store Product category. The Retail Fraud Awards showcases and celebrates the very best in retail fraud and loss prevention, people, processes, strategy and technology. Award ceremony guests included vendors, academics and executives representing more than 80% of the UK's top 250 retailers. "This award is yet another great accolade for Cash Bases' SMARTtill Cash Management Solution," stated Steve Roys, Sales Director at Cash Bases. "To be recognised for the second time in three years amongst other highly innovative technology providers within the retail segment is an honour and we are excited to take this award-winning solution to markets in North America. Intelligent cash management is a proven technology that will play an important role in loss prevention for various retail sectors in the future."
"Having both companies honoured in the same week is truly humbling, these awards represent progression towards a common goal," stated Stephen Bergeron, V.P. of Global Marketing. "We are committed to providing products that enhance security and efficiency at the point of sale and are flattered to be recognised by others within our industry. Our merger has strategically strengthened our ability to serve customers on a global scale and we both share a commitment to excellence and are dedicated to earning our customers trust."
Source: APG Cash Drawer, LLC
Supplier
Leichtmetallstr. 22a
42781 Haan-Gruiten
Germany

The Drove
BN9 0LA Newhaven, East Sussex
UK