Company News • 08.05.2017
Axis introduces comprehensive store optimization and loss prevention solution
Axis announces new solutions for retail, which can provide intelligence and drive revenue growth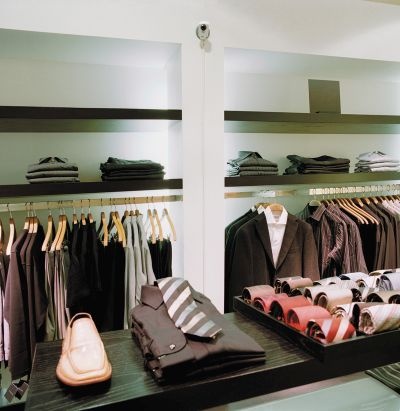 Source: Axis
Axis Communications, announced that Cognimatics' applications have been fully integrated with Axis' network cameras, audio, and access control products. Axis acquired Cognimatics in 2016 after a long, successful partnership. The new solutions will be marketed solely under the Axis brand, and will support retailers in two critical areas – store optimization solutions for customer understanding and revenue growth and loss prevention solutions to prevent theft.

"When Axis acquired Cognimatics back in 2016 I knew that our technologies would create a strong portfolio for our retail customers," said Hedgie Bartol, Business Development Manager, Retail, Axis Communications, Inc. "We're excited that we're now able to offer a solution that can generate more revenue per customer, reduce shrink and enhance overall customer experience."
Axis Store Optimization Solution
When used with business intelligence and analytics software, Axis' network cameras and audio products deliver unparalleled accuracy with people counting, age and gender detection, store occupancy estimation, and queue monitoring. The insights are delivered through comprehensive reports designed for customer needs, hosted in the cloud and available through both desktop and mobile applications. The solution allows for the enhancement of the customer experience and sales opportunities through dynamic staffing levels, sales display information, and in-store announcements.
Axis' Network Product Examples
AXIS M30 Network Camera Series
AXIS P30 Network Camera Series
AXIS P8804 Stereo Sensor Kit
AXIS C1004-E Network Cabinet Speaker
AXIS C2005 Network Ceiling Speaker

Axis' Store Optimization Suite
AXIS People Counter
AXIS 3D People Counter
AXIS Demographic Identifier
AXIS Occupancy Estimator
AXIS Queue Monitor
AXIS Store Reporter
AXIS Store Data Manager
Axis Loss Prevention Solution
In the loss prevention solution, Axis' network cameras, access controllers, and video door stations are combined with analytics software to highlight issues in real-time and enable immediate action.
Axis' Network Product Examples
AXIS M30 Network Camera Series
AXIS P32 Network Camera Series
AXIS A1001 Network Door Controller
AXIS A8004-VE Network Video Door Station

Axis' Loss Prevention Suite
AXIS Direction Detector
AXIS Tailgating Detector
AXIS Random Selector

For more information or to see these solutions live, be sure to visit the Axis booth #901 at NRF Protect, June 27 & 28 in Washington, DC.
Supplier

Adalperostraße 86
85737 Ismaning
Germany