Company News • 05.07.2011
Bosch introduces new version of its Building Integration System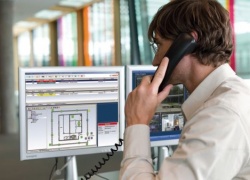 Support for latest Microsoft operating systems and database versions
New video features for Bosch and 3rd party equipment
Improved user interface for higher operator efficiency
Bosch has introduced version 2.4 of the Building Integration System (BIS) software, its modular platform for central alarm management and subsystem integration. With BIS 2.4, support for the latest Microsoft operating systems including Windows Server 2008 R2 and Windows 7 allows easy integration into any existing IT environment. Also, customers can now benefit from enhanced security features of these operating systems. BIS 2.4 per default comes with an integrated Microsoft SQL Server 2008 Express Edition for smaller applications. It also supports any other version of SQL Server 2008 as well as SQL Server 2005 SP2.
Enhanced video support
Support for video devices has been greatly enhanced in BIS 2.4. Hundreds of 3rd party video cameras can now be connected, making the Building Integration System a viable solution for heterogeneous video surveillance systems with a blend of cameras. The video engine, one of the major BIS modules, has been improved as well, offering a lot of new features on demand. Support for wide screen layouts (16:9 and 16:10) and editable alarm layouts allow for easy customization. The all new Video Recording Engine (VRE) acts as a gateway for 3rd party cameras, supporting some 800 different models including Bosch MP cameras. It also connects to the latest Bosch recording devices including Bosch Recording Station, Divar 700, VRM and to popular 3rd party devices.
Improved user interface
The operator client has also undergone a major revision. Apart from a visual facelift for faster and more intuitive operation, the client now supports up to three message inboxes. Alarm messages can be automatically routed into one of these boxes based on priority or manually shifted by operator via simple drag & drop, which greatly increases operator efficiency. The inboxes are customizable in size and position and are only presented on the screen in case of an upcoming event, resulting in better overview and overall message handling.
The Building Integration System is a modular security and safety management system which can be highly customized to suit any user's specific needs. Individual modules integrate subsystems such as video surveillance, intrusion detection, access control, and fire panels, allowing customers to reduce costs by licensing only what they really need while offering an easy upgrade path, should requirements change in the future.
Supplier

Robert-Bosch-Ring 5 und 7
85630 Grasbrunn
Germany