Product • 18.07.2008
Dragon™
Industrial Hand-Held Laser Scanner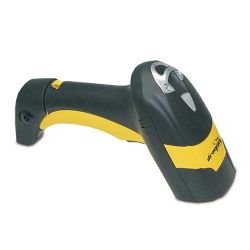 Unmatched ergonomics for flexible and easy installation, intuitive use, reliable and accurate in the long-term for all industrial applications: these outstanding characteristics perfectly summarize the main benefits offered by the renewed Dragon family.
Designed for productivity: operator comfort and productivity, essential in any scan-intensive application, is facilitated by the ergonomic handle, well-balanced weight, multiple good-read feedback (loud beeper, dual patented 3GL™ feedback including 2 leds and a green spot) and built-in metal hook for the reader hung-up on an elastic reel. All this is combined with the Dragon's™ superior reading performance further strengthened by patented Puzzle Solver Technology™ to allow fast and accurate reading of standard, poorly printed and damaged codes.
Reliability and accuracy in the long term: the rugged mechanics of the Dragon™ have been developed and tested to withstand extreme shock conditions (tens of drops from 2 m) as well as normal ones (thousands of 1 m drops) while reading performance and accuracy remain unchanged.
Superior radio features: operators requiring mobility in the manufacturing plant as well as in the warehouse or distribution center can benefit from the versatility of the mobile models: the Datalogic Star Cordless System™ represents the key to increase productivity and flexibility in the working area; it offers scalable solutions to solve simple point-to-point applications and complex projects. Furthermore, the Dragon™ M with a display and 3 push-button keypad allows the operator to visualize the code, receive information from the host and actively interact with it.
Installation flexibility: the set of accessories include a single and multiple battery charger (four slots), holder and stand, offering the opportunity to set-up the working area in the most useful and practical way.
Features


Dragon™ Desk
2 meter drop resistance
Standard, LR and XLR optics
Man/machine interface: loud beeper and 3GL™ feedback
10 cm to 10 m reading range
Dragon™ Mobile
Several models available:

With or without display
Standard, LR and XLR optics
433 MHz or 910 MHz radio systems

Seamless roaming
Point-to-Point & Multipoint transmission
100% compatible with STAR-System™
Plug-in battery
Applications
Work-in-progress control
Warehouse management
Shipping and receiving control
Cash & carry retail applications
Forklifts
Supplier

Röntgenstraße 9
64291 Darmstadt
Germany