Product • 13.08.2008
Elephantino - High-performance and space-saving children's terminal in the new animal design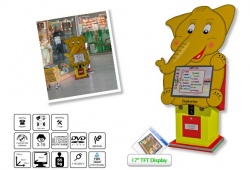 New! The high-performance and space-saving children's terminal in the new animal design – the elephantino terminal. The new Animal Range successfully combines the proven Mini Magic terminal with a new layout in animal design.
No matter whether it's for a waiting room, children's play land or as a supplement to Magic House – the ready to plug in machine is one of the most space-saving machines in its class, requires a standing area of just 65-80cm x 55cm and can be integrated into even the smallest areas.
The robust wooden casing is fully painted and the base plate has a sturdy aluminium edge. All paints used conform to EN71 Part 3 and adhere to the guidelines for children's toys and are saliva, perspiration and food safe. The front plate is coated with a specially laminated foil. An individual front plate layout, e.g. with your logo, is possible from the first machine.
The 17 inch TFT touch screen display with its very quiet fan make it a universal machine that is suitable for a very wide range of uses.
Supplier

Bleichweg 1a
57610 Altenkirchen / Gieleroth
Germany