Company News • 01.03.2016
EuroCIS 2016 exceeds 2015's top results
Shopping on all channels – Omnichannel solutions conquer retail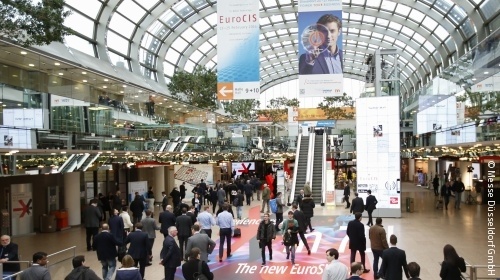 Source: Messe Düsseldorf GmbH
EuroCIS 2016, Europe's leading technology trade fair for retail, closed its doors in Düsseldorf on Thursday (25 February 2016) on sensational results.
With its range it impressively highlighted how things have long since moved on from physical versus online retail and it is now much more about the networking of all channels. Already now, but even more so in the future, it is the shopper alone who decides where, when and via what channel they wish to gather information on products and make purchases – whether this be by Smartphone, tablet, PC or at the store itself.
This is why all solutions that support retailers in the implementation of their omnichannel strategies – i.e. their dialogue with customers across all channels – were at the focus of EuroCIS 2016. These primarily included mobile solutions – for supporting staff at the store, enabling interaction with customer Smartphones or using mobile payment. Beyond this, trade visitors were also interested in topics such as business analytics, cloud-based solutions and, as always, issues like self-checkout and self-scanning.
EuroCIS is on course for growth on all counts. Over the three days of the event EuroCIS counted about 10,400 trade visitors – corresponding to a significant rise in visitors totalling 18% over the previous year (2015: 8,782). 411 exhibitors from 29 countries took part in the event on 10,800 m² net exhibition space (2015: 320 exhibitors/ 9,130 m² net).
"This year's EuroCIS went exceptionally well," said a very satisfied Hans Werner Reinhard, Managing Director at Messe Düsseldorf adding: "EuroCIS has become the leading trade fair for retail technology in just one decade. This is primarily because at present no other trade fair reflects the dynamic technological developments in retail and none presents retail IT in all its forms and functions in such a comprehensive way."
The international trade audience travelled to Düsseldorf from a total of 87 countries. The top five countries of origin after Germany were the Benelux, Great Britain, Italy, Austria and Switzerland.
With many of innovations on display the prime concern of suppliers was to make the customer journey even easier in future, to offer additional services and to make shopping a real experience. Be it the electronic shelf label that relays ingredients, recipes or special offers direct to shoppers' Smartphones, the shopping trolley that automatically follows consumers around the supermarket or magic shop windows that invite shoppers to interact using Augmented Reality and gesture control – all these developments primarily underline one thing: in retail the customer is always right.
Ulrich Spaan, Executive Board Member and Head of Trade Fairs and IT Research at EHI Retail Institute sums up: "The success of EuroCIS reflects the huge importance of using technology in retail organisations nowadays. Technology has penetrated all areas of retail companies and plays a decisive role in communication with customers. New technologies are reaching the market in ever quicker succession and the boundaries between the sales channels are becoming increasingly blurred."
Jürgen Berens von Rautenfeld, Executive Board, Online Software AG: "The good conversations held here show that retail is working very intensively on digital transformation. Digitisation of local store business using the POS media available today is a key bridge for extending online offerings. Digital instore is gaining key competitive edge."
Christoph von Lingen, Country Sales Leader for Retail Solutions at Toshiba: "Visitors were particularly interested in our concepts for self-checkout solutions. We can confirm the results of the EHI study on checkout systems that found retailers are attaching increasing importance to design. Furthermore, modularity is very important for flexibly adapting the solution to your checkout area."
The additional offerings at EuroCIS 2016 were also very popular – like the EuroCIS Forum and the Omnichannel Forum. Both forums, bilingual in German and English, were very well attended on all three days of the trade fair.
The next EuroCIS will be held in Düsseldorf as part of EuroShop 2017 from 5 to 9 March 2017.