Company News • 24.05.2017
European retail trade shows – no signs of slowing down
Technology vendors are really keen to showcase their cutting-edge products
Go back five or ten years and you would have thought that businesses would see less value in attending trade shows in the modern digital world; where information is instantly at our fingertips thanks to the internet. In fact, the opposite is true, trade shows still hold an important place in the business calendar. They unite individuals on the show floor and allow vendors to speak with potential clients face-to-face, whilst providing the opportunity for users to get their hands on the physical product and see real life demonstrations of the latest advancements in retail innovation.
Supplier
4 The Drove
BN9 0LA Newhaven
UK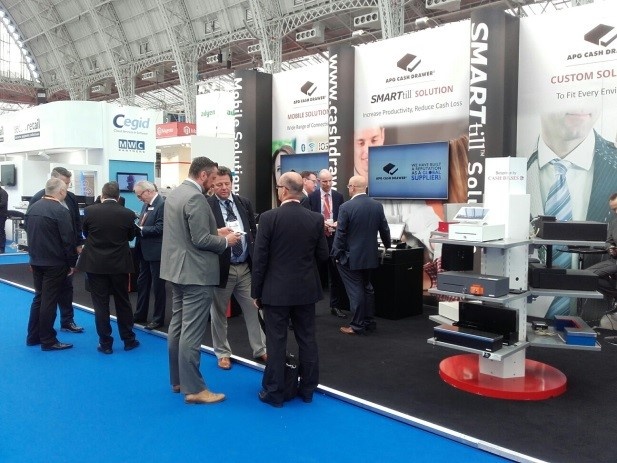 Source: APG Cash Drawer
It is no surprise then that the two biggest European retail technology shows, EuroShop and Retail Business Technology Expo (RBTE), have grown in recent years; expanding to their biggest ever floor plans and attendance lists, proving that technology vendors are really keen to showcase their cutting-edge products and solutions in person to trade show visitors.
"There was a significant number of supply chain community vendors presented in the arena at RBTE 2017, working on collaboration and building partnerships with each other." commented Andrew Carr, Managing Director at APG Cash Drawer EMEA.
APG Cash Drawer works closely with partners to quickly and efficiently provide products through distribution channels worldwide whilst working with other technology vendors to bring the best and latest solutions to the marketplace.
This year's exhibitions have shown a clear trend towards utilizing digital signage; not only as a great customer engagement tool to advertise products, but to also interact and connect with customers on an emotional level to create that 'wow factor' for the shopper. Recognizing this, the RBTE 2017 show combined with the Retail Design and Digital Signage Expo to provide a one stop shop for all retailing needs.
"Our team had good interaction with new customer prospects, but also excellent engagements with existing customers from top quality brands and well known high street names who wanted to explore the latest cash drawer solutions, including our SMARTtill™ Cash Management Solution." stated Mr Carr.
APG's SMARTtill™ Intelligent Cash Drawer, when integrated with CCTV, Smart Safes and data mining tools, as presented on the APG's stand, creates a powerful loss prevention tool for any retailing environment where cash handling is a challenge.
The buzz surrounding new pioneering technologies in our high-tech world won't stop, it will only accelerate and exhibitions will continue to be a vital platform for businesses on this exciting journey.