Report • 21.10.2013
Going to the heart of the retail opportunity
World Retail Congress Africa will take place in Johannesburg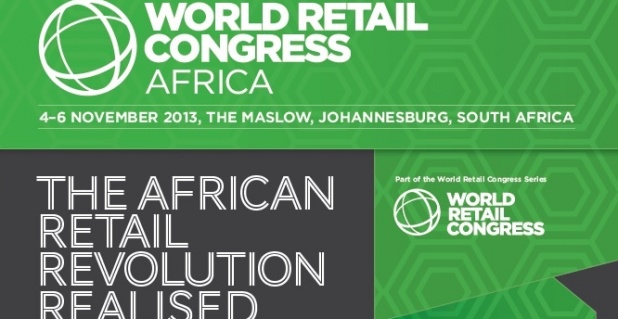 New to Sub-Saharan Africa and created in response to the rapidly changing and diversifying marketplaces across the Continent, the World Retail Congress Africa goes to the heart of the retail opportunity: servicing and understanding the new African consumer across new channels in new markets and provides global retail intelligence, with an Africa market focus.
Over 250 global retail leaders will meet in Johannesburg at the World Retail Congress Africa on the 4-6 November to discuss, debate and define the future of retail across Africa.
Agenda highlights
Join the World Retail Congress Africa to hear how effective and prosperous businesses are understanding consumer trends and running their outlets in the most promising countries.
Here are just five of the 40+ sessions you can attend over the two Congress days:
Addressing the informal vs. formal retail economy. Financing retail development and roll-out – domestic financing, BRICs and the West
Identifying sustainable growth markets – market insight and retailer CEO case studies from Kenya, Nigeria, Angola, South Africa, Egypt
Online consumers -Introducing the online, mobile, connected African consumer and new retail opportunities
Entering African retail successfully – business models (JV, franchise, acquisition) and market conditions for launch and expansion
Delivering best practice operational excellence and supply chain management to exceed customer expectations
60+confirmed speakers include:
Steve Hammett, President, Retail at Al Futtaim, United Arab Emirates; Marks and Spencer
David Kneale, CEO, Clicks Group
Therese Gearhart, President (South Africa), Coca-Cola
Paula Disberry, Group Planning Head, Woolworths
Jonathan Ciano, CEO, Uchumi
Jeremy Hodara, MD, jumia.com.ng
Sullivan O'Carroll, Chairman & MD South Africa, Nestle
Bill Paladino, CEO, Internet, MIH, Naspers Africa(incl Kalahari.com)
Andre Farber, Executive Vice President, GrupoBoticário
Yaw Nsarkoh, MD East and South Africa, Unilever
Suzanne Ackerman, Transformation Director, Pick n Pay
MncaneMthunzi, Group Head, Africa Food Retail & Supplier Development, Massmart
No other continent offers the same growth potential for retailers as Africa.
Faced with limited population growth and sluggish economies at home, many US and particularly European retailers are expanding into emerging markets in the hope of finding growth opportunities, but with competition intense in China and Brazil many are looking elsewhere to gain an advantage.
And where better to look than Africa?Where, although traditional forms of retailing are still dominant, a growing middle class is demanding branded products and the opportunity to shop in modern retail formats.
Africa's main challenges lie in its enormous size and diversity. A thorough understanding of local cultures, beliefs, customs, economics, and practices is required to be successful. This is why the World Retail Congress Africa agenda is focusing on specific country case studies to help you identify the opportunities and growth of your business based on successful examples across the Continent.
Kenya:
Hear from Nakumatt, East Africa's leading supermarket chain. As the largest retailer in Kenya, East Africa, Uganda and Rwanda, Nakumatt is still expanding to the wider East African region and plans to add internet shopping to its direct-to-consumer platforms. Find out how to deliver retail experiences to 41 million people and how to prioritize markets for expansion.
Speaker:Thiagarajan Ramamurthy, Director of Strategy and Operations, Nakumatt
Egypt:
The Al-Futtaim Group, founded over 70 years ago, is one of the most respected corporations in the lower Gulf and North African Region. It operates collectively over 65 companies across diverse retail sectors, including IKEA, Marks & Spencer, Toys R' Us, Robinsons and Guess. Despite the recent political instability, Egypt is a lucrative market when you manage to get it right. Listen to Steve Hammett, who is in charge of the Marks & Spencer operations in Egypt and how they have managed to survive and thrive in this environment.
Speaker: Steve Hammett, President, Retail, Al Futtaim (Marks & Spencer)
South Africa:
One of the largest African retail stores, Woolworths is a South African retail chain that extends, through franchise partnerships, throughout Africa and into the Middle East, trading through more than 400 stores. How does Woolworths split its approach to the rest of Africa's markets and non-grocery strategy, where supply chain complexities exist? Join this session to look at best practice in sourcing, trending and keeping the customer at heart.
Speaker: Paula Disberry, Group Director Retail Operations and International, Woolworths
Botswana:
As one of the leading supermarket brands in Botswana, Choppies addresses the 1-3 level consumer in Africa. The brand is now in neighbouring countries, including South Africa. Botswana itself has been identified by A.T. Kearney's Global Retail Development Index as the top Sub-Saharan African country for retail business. This session looks at what it means to address the bottom of the pyramid consumer now and what potential lies therein.
Speaker:RamachandranOttapathu, CEO,Choppies
Nigeria:
Nigeria's online retail industry is on the rise more so than any other African country. What makes the conditions right in this country to set up and grow your online business? How can online retail businesses survive and negotiate the existing offline challenges of getting product to market? This session looks at funding, accessing core online consumers vis a vis mobile network development in the country, and remaining innovative and relevant as new physical and online competition hits the commercial limelight.
Speaker:SimShagaya, CEO, Konga.com
Angola:
How can one conduct successful business in Angola? What are the business models that are working? Join the Angola country session to hear from O Boticario, who after more than 35 years of successful franchising in Brazil, is considered the largest point of sale network in cosmetics and fragrances in the world. Being present in Angola, a well-financed country, it retails to the international consumer base at the heart of its oil economy. Which changes did it effect in order to remain locally minded and sensitive to the needs of its growing consumer groups?
Speakers: Nicolas Borrero Pabon, International Business Unit Manager and Andre Farber, Executive Vice President,O Boticario
For African brands to break through, they must build brands underpinned by local insights that motivate African consumers while delivering on a global standard.
For further information please visit www.worldretailcongressafrica.com
Source: i2i Events Limited