Company News • 07.10.2016
Mobile Reporting: optimized for the needs of retail companies
Superdata offers a mobile solution for store management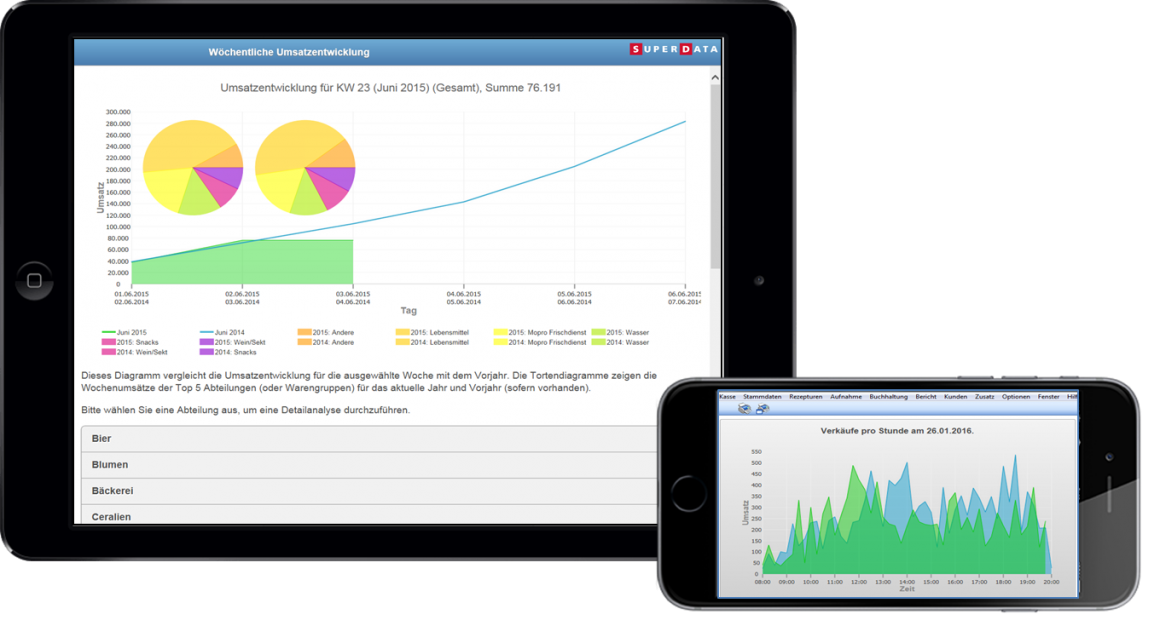 Source: Superdata
Mobile Reporting is available for the systems DEWAS, MSS and sigma//MC and offers store management reports and figures. Management takes advantage of a simple and direct access to decision-relevant information at any time and in any place.
The application is fully integrated into the merchandise management system and offers easy, immediate and unfiltered access to store management information. The reports are optimized for the needs of retail companies and are generated directly out of current data. Store management can be executed at the store, on the run or whilst travelling with a high degree of flexibility.
A large number of easy-to-use and significant pre-configured reports are included in the Mobile Reporting solution. Ad hoc reports show current turnover by division or cash register, customer frequency or incoming goods. Mid- and long-term reports and comparisons deliver figures like income, cost of sales or range of coverage.
Wherever useful, the reports offer a drill down from enterprise level information down to departments and product group, which can be selected by touch within the graph. The graphic preparation offers a quick overview of relevant figures.
Mobile Reporting supports all common web browsers and the operating systems iOS, Android and Windows. Thus end-devices can be chosen freely and combine as required. Handling is intuitive with a visually attractive user interface. The responsive design adjusts automatically to the size of the device display used.
Mobile App, the latest development from Superdata, complements Mobile Reporting and offers operative merchandise management functionalities for flexible and independent use. The Mobile App for the systems DEWAS and Sigma can be used with new generation PDT-devices and with mobile devices such as notebooks, tablets and smartphones. Both solutions are available as stand-alone license or can be used in combination.
The wide range of mobile application scenarios offers many possibilities for the optimization of additional retail processes. Superdata already plans the development of further mobile solutions, and these will again open new perspectives to the retail industry.
Supplier

Ruhrstr. 90
22761 Hamburg
Germany