Report • 18.06.2009
Money, Card, Checkout: New Checkouts with new possibilities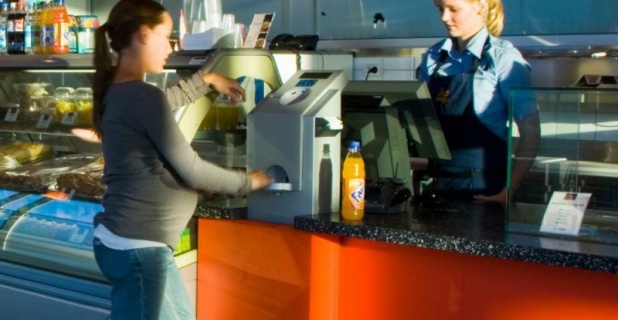 Cash is another cost factor: Cash handling systems aim to reduce costs and increase security. This also applies to cashless payments using cards or fingerprint. High-performance receipt printers have become a firm part of cash desks and checkouts. With all this IT, checkouts are quickly adopting the role of the central PC within the store. Such systems also make logs of the cash drawer and function as the interface for the store's inventory management system.
The checkout study carried out by EHI before the last EuroCIS demonstrates the high need for investments at the checkout area. The results of the study show that the average age of hardware used in this area is 6.4 years. Around 20 percent of the retail companies asked have used the same systems for ten or more years. Approximately one in ten companies admitted that instead of special hardware, standard PCs were used at the checkout, which had been transformed into cash registers and equipped with peripheral devices such as receipt printers and card readers.

Cashless Payment with Your Finger
Paying is about to change. More and more customers will pay without requiring any contact whatsoever by using cards, mobile phones and even their fingerprints. Such measures could enable the retail sector to significantly reduce the cash cycle. Firstly, however, investment in new hardware is required.
Cashless payment through fingerprints is much quicker than paying by card with PIN verification or counting out loose change. "Fingerprints are the easiest currency there is. Customers always have them with them, and they can never be stolen", states Höltl-Retail, for instance. It is believed that counterfeited money and card fraud will be a thing of the past. "Fingerprints are unique to each individual and cannot be copied."

New Debit Cards and Electronic Receipts
Developments are also being made concerning the subject of card payment. French and German financial institutions have called for the introduction of a European debit card known as 'Monnet' as competition for MasterCard and Visa. Meanwhile, Germany's retail sector continues to fight for the future of the cost-effective EC direct debiting scheme. With reference to the SEPA single Euro payments area, banks would rather do away with this national cashless payment method completely, in favour of a chip card and PIN system. Behind this, the EMV standard is the basis for the chip system hoping to replace the magnetic strip. The name EMV stands for Europay, MasterCard and Visa, the three companies which originally cooperated to develop the standard. Alongside this, the terminal manufacturers offer new devices which, with TA 7.0, also fulfil the latest technical requirements established by German banks to ensure security.
Until now, card payments have generated a series of paper receipts which must be archived by the retail company. Accordingly, return debit notes are time-consuming and laborious. IKEA Germany is one of the very first companies to use a digital receipt storage solution by Telecash. When paying by card, the customer's signature is written on a digital sign pad – the store no longer needs to organise and archive till receipts. The electronic receipts are stored in a central database by Telecash. And the cardholder still receives a paper receipt as normal. Telecash representatives Dirk Tobies and Jörg Stah will introduce the IKEA project on 10th February at 11 am at the Exhibitor Forum.
A similar service is also offered by the rival company Easycash. And for those who do not want to store receipts externally, Höltl offers its 'PaperlessPOS' software. The customer's signature on the sign pad is stored in four ways. In addition to the x and y axis, the pressure and speed used when signing is also recorded.

Separating Scanning and Paying
Another trend is the separation of scanning and payment at the checkout. An example of this is offered by Shell, which has introduced Wincor Nixdorf cash machines in its German petrol stations to enable customers to pay as well as withdraw money. More information is available at iXtenso under Self-Service Solutions.
Changes could also be seen in cash handling. Cash handling systems aim to reduce costs and increase security. Concerning this, counting and organising takings is done automatically, as is re-filling the tills with cash. As a result of this, fewer staff members come into contact with coins and notes. The machines carry out cash recycling and re-circulate cash takings to be used for customer change. This saves the retailer from having to take so much small change back and forth to the bank.
Supplier
Heinz-Nixdorf-Ring 1
33106 Paderborn
Germany

Am Gierath 20
40885 Ratingen
Germany
Konrad-Adenauer-Allee 1
61118 Bad Vilbel
Germany