Product • 20.07.2009
PT980 Data Collection Terminal
The Data collection terminal for various applications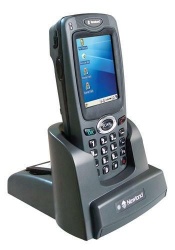 The PT980 is a ergonomic portable data terminal / PDA for various applications such as stock control, ordering, access control / ticket verification and more.
Data can be collected via the 1D laser scanner, 1D/2D imager and/or RFID reader. An IP54 rating and drop spec of 1.2 meter fall onto concrete secures its' premium quality, also making it dust –and water proof.
You can communicate with the host system via GPRS, WiFi 802.11b/g or BlueTooth. It also has a USB port for a headset or ActiveSync communication and a RS232 port. A built-in SD-card slot will support Mini SD cards with a memory up to 2GB.
The integrated OS is Windows CE 6.0, making it easy to implement your own applicatio

Supplier

Nijverheidsweg 1-d-e
6651 KS Druten
Netherlands