Product • 01.08.2008
SAF RetailSuite Store
Optimize Your Replenishment Process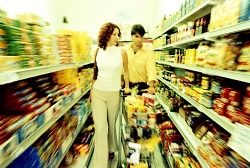 Know today what customer will demand tomorrow – SAF RetailSuite Store offers innovative solutions for retailers' logistics challenges. Based on future customer behavior, SAF RetailSuite Store enables cost-optimized inventory and efficient product flows for retail stores.
This innovative forecasting and ordering system is an intelligent software package for the automated optimization of the replenishment process – for as many stores and items as desired. As technology leader in the field of forecasting software and computer automated ordering, SAF helps many large international retailers to increase their operational efficiency, on-time delivery performance and profitability with this outstanding software package.
Using state-of-the-art scientific forecasting processes, SAF RetailSuite Store forecasts future product demand with astounding accuracy. The SAF system, which can be fine tuned for each retail store, uses these forecasts to fully automatically order optimum quantities to cover the future demand.
Faster and More Accurate than the Best Manual Planning
The SAF RetailSuite Store core product is SAF SuperStore, a forecasting and ordering software. The software generates sales forecasts for any number of items in as many stores as desired, and these with a speed and accuracy which far surpass the results of manual planning. Out of stocks can be almost completely eliminated by SAF SuperStore. Thanks to improved product availability, both sales revenues and customer satisfaction increase significantly. The highly accurate SAF SuperStore sales forecasts result in lower costs and increased sales, thus creating important competitive advantages. In addition to SAF SuperStore, SAF RetailSuite Store includes several tailor-made applications with easy-to-navigate and user-friendly user interfaces which make the ordering process even more efficient and time-effective.
The standard modules of SAF RetailSuite Store:
SAF SuperStore
Fully automated ordering and inventory optimization
SAF EngineManager
Process control for centralized replenishment
SAF PredictorManager
Centralized administration of sales influencing factors
SAF ConfigurationManager
Configuration management in multi-store environments
SAF DataMonitor
Visualization of relevant order information
SAF OrderManager
Enables manual order revisions
Forecasting Software with Efficient Add-on Modules
Two optional add-on modules are available: Using SAF DC-Link, SAF RetailSuite Store ensures the troublefree data technical connection between the stores and the warehouses, for instance, within the framework of CPFR projects (Collaborative Planning, Forecasting and Replenishment). The second optional add-on module, SAF ToolBox, includes a collection of different tools to facilitate system optimization and analysis.
Supplier

Bahnstrasse 1
8274 Tägerwilen
Switzerland