Company News • 01.03.2017
SCAN COIN and SUZOHAPP revolutionize cash handling at EuroShop 2017
Getting ready for European premiere of the new CashComplete™ concept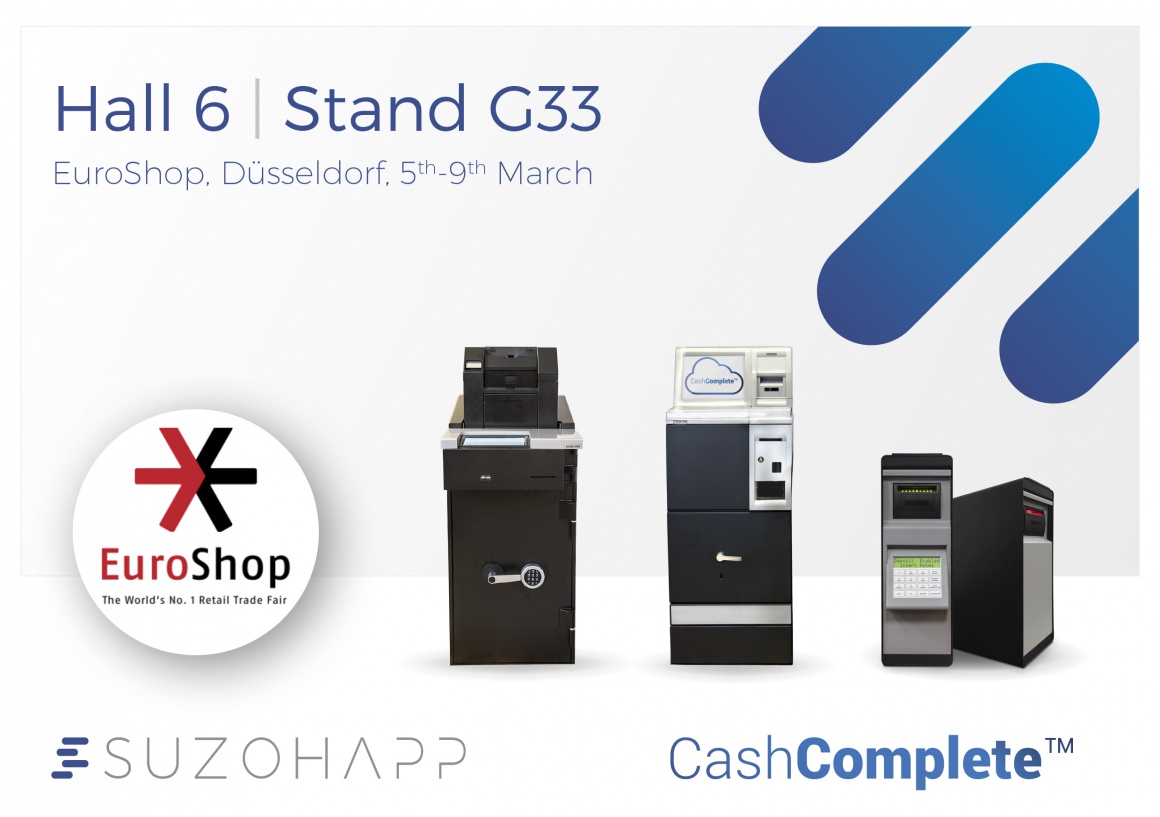 EuroShop is the must-attend retail trade show in Europe and will be held from 5th until 9th March in Düsseldorf, Germany. SCAN COIN and SUZOHAPP are getting ready to present their most innovative solutions at stand G33 (Hall 6). Visitors will have the opportunity to discover the new CashComplete™ product range, designed to improve cash business at all levels and transform cash handling operations.
European retailers have stopped expecting the cashless society – still around 60% of all transactions in the European Union are done with cash1. Cash payment in Germany remains as strong as ever over the past decade and is used in 80% of transactions2. The challenge is to reduce the cost of cash to the retailer and whilst at the same time facilitating the customer's natural preference for cash payments.
The CashComplete™ solution minimizes the administrative burden of managing cash and enables customers to dramatically reduce working capital and the expenses associated with cash management. CashComplete™ monitors cash levels, validates bills to prevent acceptance of counterfeits, simplifies the verification process for a secure storage and protects from theft.
CashComplete™ carries 3 product lines (SDS, SPS and RCS) covering all possible applications – they are scalable and can then be tailored exactly to retailers'needs. The new range includes a unique software platform (CashComplete™ on device) which is the ultimate solution for superior financial and operational control of cash.
Special focus at Euroshop will be on presenting the Smart Deposit Solutions (SDS-25 and SDS-700), which optimize the cash deposit process during point of sale and back office operations. The Recycling Cash Solutions (RCS-400, RCS-500, RCS 800 and RCS-900) will be also displayed in Düsseldorf. With the RCS Solutions you take control of cash through an efficient cash cycle in all areas of business, from internal cash handling to CIT operations. Finally the SPS-300 is the Smart POS Solution, the recycling system that fully automates the cash handling at the point of sale, speeding up the process and increasing productivity and efficiency.
At Euroshop a wide array of SUZOHAPP cash handling components will be showcased: the new intelligent coin system (ICS), the Comestero RM5 coin validators, the Currenza C² coin recycler as well as the MFL bill validator and the Bill-to-Bill 300 XE note recycler which makes use of the latest sensor technology.
Vincent Saubaber, Vice President Retail, stated "Join us at Euroshop and discover how the new CashComplete™ range can really help you to revolutionize your business and gain a quick return on investment. Make CashComplete™ part of your daily operations and decision-making, instead of spending time dealing with cash handling challenges!".
Colombo Fasano, CEO and Group Managing Director at SCAN COIN, is looking forward to welcoming visitors in Düsseldorf, "We are excited to participate again at Euroshop and meet all our valued customers. We are proud to present here the new CashComplete™ product range - the most modern, innovative and secure cash management solutions in the industry. We invite all attendees to join us on our stand and meet up with our experts! ".
Discover CashComplete™ at stand G33 (Hall 6) and find out more online at www.cashcomplete.com