Company News • 25.07.2016
Seeking the world's best digital projects in retail for the Digital Retail Award 2016
Application deadline extended until 26 August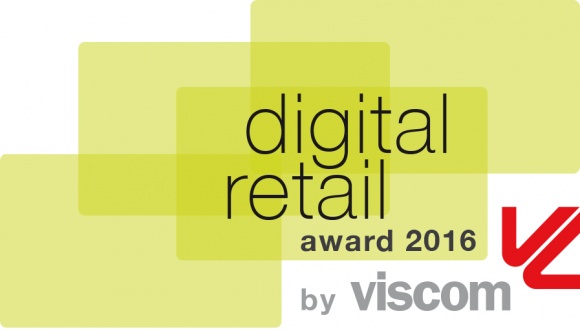 Source: viscom
Digitalisation is shaking up brick-and-mortar retail worldwide. Online stores are ahead in some industries, but retailers are leveraging new shop concepts and digital POS technologies to deliver new services and experiences. According to a GfK study, customers most value the retail shopping experience for the ability to inspect and touch products that are immediately available. While rational aspects play a greater role in online shopping, physical retail is more about emotion, haptics and the immediate satisfaction of needs. That's where digital concepts come in. The Digital Retail Award 2016 honours bold digital POS projects launched by advertising and digital agencies, retailers, and brand manufacturers and distributors. The award will be presented at viscom, the International Trade Fair for Visual Communication, which is set to take place in Frankfurt from 2 to 4 November.
Wanted are applications that accompany the customer during the purchase process, create an emotional shopping experience, or merge online and offline channels in meaningful ways. Major brands and retailers are showcasing digital applications and multichannel solutions in their flagship stores around the world, but independent retailers are following their lead with smaller-scale solutions. Aimed at reflecting this change in the shopping landscape, the Digital Retail Award presented at viscom will now put the emphasis on the retail sector and retail communication – physically at the store, out-of-home on the way to the store, and online and mobile throughout the purchase process. No other digital award specifically for retail exists in Germany to date.
Participants and categories
The award targets all manufacturers, service providers, retailers, integrators and digital agencies. Prizes will be presented to projects in four categories: "Instore", "To-Store", "Online, Mobile" and "Special".
The "Instore" category is intended for digital in-store projects and applications, including digital signage screens, kiosk apps, interactive and multi-touch solutions, smart signage, and POS systems. "To-Store", by contrast, covers digital projects and campaigns in the out-of-home area and in front of stores. The "Online, Mobile" category encompasses digital projects with a focus on online and mobile communication and tools to support the customer journey, such as multichannel solutions, click & collect systems and beacon projects. The "Special Award" is reserved for an outstanding innovative solution.
Award submissions are free of charge. An entry fee of €250 will be charged for nominated projects submitted by the end of June; the fee increases to €380 for later submissions.
Media presence and award ceremony
The best projects will be recognised and presented at viscom POS, the Trade Fair for Communication and Digitalisation at the POS staged as part of viscom. This is the hub where it all comes together for brand and room staging professionals looking for trends and inspiration for their daily work: not only brand manufacturers and distributors; product, trade and marketing managers; retailers; agencies; exhibition stand builders; shopfitters; and furniture and equipment suppliers, but also advertising technicians and print services providers. The new award serves to further enhance viscom's aim of increasingly becoming a home for digital agencies and a platform where they can present their projects. About 11,000 visitors are expected to attend viscom 2016. Nearly 60 per cent of trade fair visitors last year were interested specifically in digital-signage and interior-design solutions.
Nominated Digital Retail Award 2016 projects will be presented to the professional community at the "digital retail space", the new digital area at viscom POS. The award ceremony will take place at an evening event in Frankfurt on the first day of the trade fair.