Product • 07.10.2008
skeye.dart with focus on self-scanning and field services
Höft & Wessel forecasts further efficiency benefits in retail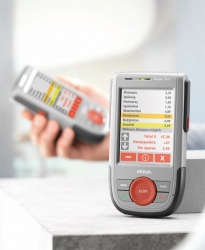 Skeye – the business unit for mobile data capture of Höft & Wessel AG – is set to launch a new product on the market. The mobile terminal called skeye.dart is a new, innovative and handy device in PDA format, weighing less than 300 grams.

Despite its small size, the unit has the full range of functions expected in a mobile computer: it receives and transmits data online via GPRS, has GPS navigation, and with its microphone and speaker it doubles as a mobile phone. The built-in camera can be used to take photographs and to scan barcodes. A particularly innovative feature is the intuitive user interface concept developed especially for this device. Selective illumination is used to highlight the keys relevant to the current operation, and this allows even less experienced users to run complex application easily and intuitively. This concept makes the skeye.dart very well suited for use in self-scanning operations in retail and field services.

With the Skeye.dart customers recording articles themselves and thus reducing waiting times at check-out points. "In the retail sector, we have identified further potential savings, both in terms of time and costs, through the use of self-scanning," explains Peter Claussen, Deputy Chairman of the Management Board of Höft & Wessel AG and head of the Skeye business unit. This special product developed for self-scanning operations is an addition to the company's range of products aimed at the wholesale and retail sector: the market leader in mobile data entry terminals in Germany's retail trade also sells special self-check-out solutions for the retail sector. "The combination of self-scanning and self-check-out technologies will allow supermarkets to achieve significant efficiency benefits in future."
With its set of features, the skeye.dart opens up additional functions for the retail trade beyond self-scanning. At the Point of Sale (PoS), products can be advertised on the high-resolution display, or acoustically via loudspeakers. A further option is the provision targeted buying advice: a customer buying a particular kind cheese could receive a recommendation for a suitable wine to match. The link to the WLAN allows the unit to be supplied with the relevant information for each individual PoS.
With this new product, Skeye is targeting the European retail market. While self-scanning is already undergoing extensive field testing in countries such as Sweden, Great Britain and the Netherlands, there are only a small number of trials under way in Germany. Skeye anticipates major sales potential here for the future.
In addition to the self-scanning sector, Skeye is also targeting the field services market with this product. A special version featuring an integrated GPRS/EDGE module for location-independent communication with a central system and with a GPS module for position-finding and navigation make the skeye.dart particularly suitable for applications such as keeping records of services provided by technicians and tradesmen, or in customer relationship management for commercial field services.
The skeye.dart is designed to meet industrial standards: it will survive a drop from a height of 1.20 metres and can operate in humid and dusty environments. Other technical features are the latest generation 624-MHz PXA320 processor, 128 MB of DDR RAM, the 3.5" sunlight-readable display with VGA resolution, WLAN, Bluetooth and GPRS/EDGE modules, and the Windows-embedded CE 6.0 ™ operating system.