Product • 13.06.2016
Splice software receives US patent for integrated dialog suite solution
This proprietary technology enables the creation of individually personalized, automated messages for customers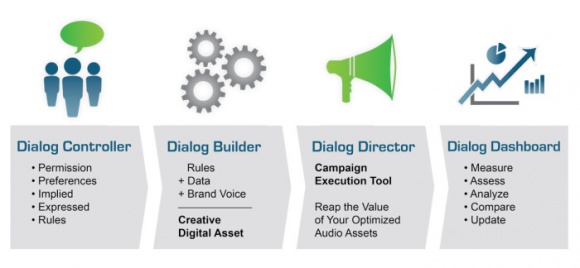 Source: Splice Software Inc.
It combines data from a variety of sources, including corporate administrative systems and Internet of Things (IoT) data streams, with scripted dialogues and customer analytics.
Companies can use the solution to deliver best-in-class human voice corporate communications related to operations, marketing, billing and appointments, as well as to administer surveys for continuous service improvements.
The Dialog Suite can be broken down into four components:
Dialog Controller: This rule engine is where SPLICE captures and stores permissions and preference data, in order to respond to end-customer needs. It increases response time and trust with all corporate-customer communications.
Dialog Builder: The "builder", or audio creation wizard, combines scripting best practices with customer preferences to make the most effective messages. At SPLICE, crowd-sourced voice talents record linguistically optimized message segments that are spliced together to create customized messaging that is truly data-driven.
Dialog Director: Otherwise known as "the portal", the Dialog Director is SPLICE's secure campaign execution tool, where SPLICE clients can access step-by-step processes for all solutions, how-to resources, and review and approve all messaging audio.
Dialog Dashboard: SPLICE clients and their SPLICE campaign managers use the Dialog Dashboard to measure, assess, analyze, and review all campaign results and reports, to better understand customer response patterns and preferences, and to aid in the development of better communications that drive the desired actions companies are looking for.
SPLICE Software provides solutions for Retail, Finance and Insurance, and was recently recognized by Gartner as a 2016 Cool Vendor.
"We're thrilled to be included on Gartner's 'Cool Vendors' list, and as companies increasingly recognize opportunities to serve their customers better, we're there to help them succeed by synthesizing and applying the data that creates real connections across multiple platforms," says SPLICE Software President and CEO, Tara Kelly.
SPLICE Software's solutions, which are built on a compliant, secure infrastructure, are designed to apply data effectively by delivering personalized service capabilities across the communication continuum, including voice, text, social media and email platforms.