Company News • 03.08.2016
Study: Software pricing and licensing trends
The enterprise software marketplace is undergoing a massive transformation as the pricing and licensing models dictating how software is bought and sold evolve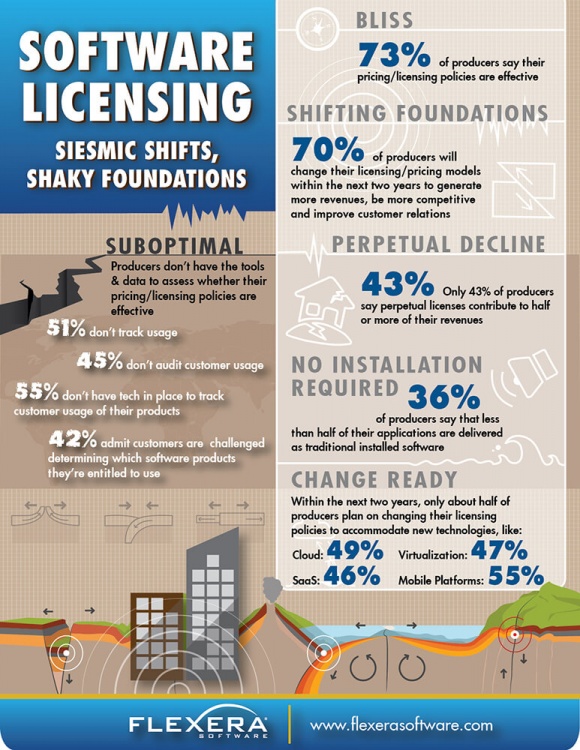 Source: Flexera
Fueled in part by shifts in customer demand and in part by rapidly changing technology, some software application vendors are poised to reap windfall profits from the new software pricing and licensing models emerging, while others risk being left behind. This is the conclusion of a new report published by Software Monetization expert, Flexera Software. Among the report's findings:
Perpetual Decline: Only 43 percent of software vendors say perpetual software licenses contribute to half or more of their revenues. Historically, the perpetual license was the dominant licensing model used by most software vendors.
Shifting Foundations: 70 percent of software vendors will change their pricing and licensing models within the next two years. The reasons? To generate more revenues, be more competitive and improve customer relations.
No Installation Required: 36 percent of software vendors say that less than half of their applications are delivered as traditional installed software.
Change Ready: Within the next two years software vendors plan on changing their licensing policies to accommodate new technologies like:

Cloud (49 Percent)
SaaS (46 percent)
Virtualisation (47 percent)
Mobile Platforms (55 percent)

Bliss or Ignorance? 73 percent of vendors boast their pricing and licensing policies are effective. Yet despite this confidence, 51 percent of those surveyed admitted they don't track customer usage, 45 percent don't audit customer usage, 55 percent don't have technology in place to track customer usage of their products, and 42 percent say their customers have challenges determining which software products they're entitled to use.
"Enterprises are rapidly redefining how they want to license and pay for business software. Moreover, technology is shifting so rapidly it is rendering old pricing and licensing models obsolete," said R "Ray" Wang, Principal Analyst & Founder at Constellation Research. "Smart software producers are being proactive, viewing this dramatic shift as an opportunity to offer more flexible monetisation models, capture market share and new revenue streams. Software vendors that fail to act risk being left behind."
"The report illustrates the fluidity of the software market place and the rapidly changing customer preferences dictating how software is bought and sold," said Steve Schmidt, Vice President of Corporate Development at Flexera Software. "To thrive in this environment software vendors must adopt an agile Software Monetisation strategy and implement automation that flexibly supports multiple software pricing and licensing models. As the data suggests, many vendors are not yet 'change-ready,' and therefore are at risk."
Resources:
Access the report: Software Licensing 2016: Seismic Shifts – Shaky Foundations Report
About this Report
The 2016 Key Trends in Software Pricing and Licensing survey was conducted by Flexera Software. This annual research project looks at software licensing, pricing and enforcement trends and best practices. The survey reaches out to executives at software application producers (software vendors and intelligent device manufacturers) and enterprises who use and manage software and devices. Now in its tenth year, the survey is made available to the industry at large each year.