Product • 30.11.2007
The CASIO IT-3000
Reliable mobile printing and scanning with only one device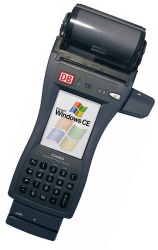 The IT-3000 features a built-in high speed thermal printer capable of printing up to 28 lines per second. It runs on the Microsoft® Windows®CE .NET operating system for easy development and integration into the enterprise. Its sturdy construction enables it to withstand a drop from a height of 1.2 meters and the IP54 level sealing allows it to be used in dusty and wet environments. With Bluetooth®and IrDA both integrated as standard, and a PC card slot for optional use of Wireless LAN and WAN cards, a wide selection of wireless communication options is possible. Models with Magnetic Card Reader and C-MOS Imager are also available.

With the high speed printer integrated as standard on all models, the Magnetic Card Reader and the C-MOS Imager it is finally possible to eliminate the need to carry separate devices such as portable printers, magnetic card readers and scanners. This not only lowers the cost of the overall solution, but also increases productivity and reliability. The IT-3000 series is ideal for issuing tickets, mobile sales, queue busting and in any situation where a receipt or label may be required.

In addition to genuine ease of use and mobility, the IT-3000 series has been designed to be an all-round solution for vertical applications in all weather conditions, day or night. An SD memory card slot, PC card slot (TYPE I/II) and integrated Bluetooth® come as standard. Data stored within the terminal can be backed up to an SD memory card if required. Wireless LAN communication is possible using a third-party Wireless LAN card installed in the PC card slot. The integrated Bluetooth® module enables wireless communications with a wide range of third-party peripherals.

The built-in thermal printer uses a simple one-step paper-loading method. All that is required is for a user to place a paper roll inside the paper roll holder, pull out a 2 or 3 cm length and then close the cover. This simple method saves time and ensures that the paper is always loaded correctly even when performed in the field.

The IT-3000 has been designed and built for rugged reliability. The terminal, including the printer and paper roll holder complies with the IP54 rating for dust and water-splash protection. It can withstand a drop from a height of 1.2 meters to concrete and can operate in temperatures between -20°C and +50°C. The IT-3000's rugged construction enables it to survive rough handling and give trouble free use over prolonged periods in very tough environments.
Supplier

CASIO-Platz 1
22848 Norderstedt
Germany