Product • 30.11.2007
The CASIO IT-600
Rugged PDA Equipped with Laser Barcode Scanner and 1 Mega Pixel Camera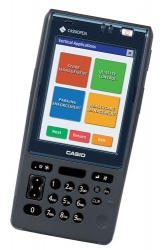 The IT-600 boasts an optional 1 mega pixel colour camera with CASIO developed digital lighting software. This digital technology gives users the ability to record critical information in varying lighting conditions without the need for a separate camera or flash.

The rugged PDA also contains an enhanced laser barcode scanner giving users, such as retail stock-takers, greater control and accuracy when scanning information. In addition to a beam swing angle control function that allows for precision barcode scanning, the unit also contains a vibration scan confirmation to ensure accurate scanning even in noisy environments.

Another key feature is the integrated wireless technology that allows users to connect and transfer vital information directly to back office software. Bluetooth® is standard in all models with WLAN 802.11b and 802.11g versions available. These technologies make the IT-600 ideal for industries such as warehousing and retail applications where secure access in real time information is crucial.

Housed in a rugged casing that has been developed to withstand harsh handling and variable weather conditions, the IT-600 has been subjected to a series of severe assessments tests complying with international standards. It is resistant to both dust and water, and suffers no adverse effects to operation when dropped from 1.2 metres to concrete.

Packed with all this integrated functionality, the IT-600 is still incredibly portable. Its lightweight ergonomic design weighs only 322g and offers the user a choice of three buttons to scan a barcode to help ensure comfortable operation. The bright 3.7" LCD screen is viewable even in bright light. The unit's exceptional battery life enables it to easily last more than a full working shift – eliminating the inconvenience of battery recharging during shifts. A fail-safe flash memory card and auto-recovery tool help to prevent loss of information through battery exhaustion, program error or other malfunction. A miniSD card slot provides an additional storage option.
Supplier

CASIO-Platz 1
22848 Norderstedt
Germany