Product • 30.11.2007
The DT-X11
Mobile data collection without barriers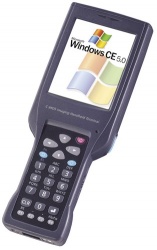 The CASIO DT-X11 handheld terminal has a built-in Intel® PXA255 Application Processor, C-MOS imager and diverse wireless communications options like Bluetooth® , IEEE802.11b RF and WAN (GSM, GPRS, CDMA, etc.). Running under Microsoft® Windows® CE 5.0 operating system, the rugged DT-X11 is designed specifically with the transportation market in mind but is also suitable for the retail market and other sectors.

The C-MOS imager, integrated as standard, enables the user to scan industrial standard two-dimensional and one-dimensional codes and signatures on the spot.
The new LCD screen substantially improves outdoor visibility. It has been developed and manufactured with a specific optical film developed by CASIO that converts external light efficiently into reflecting light, without diffusing and absorbing, to make the display vivid indoors and out where other conventional transmissive LCD screens cannot.

The DT-X11 series comes with a wide selection of wireless communication standards, giving users a choice to suit their communication environments in all vertical applications. Bluetooth® comes as standard for all the models.
Models with PC card slot for WAN card (DT-X11M10E, M30E, M30U)
These models allow the user to install a CDMA or GSM or GPRS communication card*, to meet the needs of various businesses requiring Wireless WAN.
*Communication Card Covers (DT-892TCV, DT-893LTCV) are available as option for WAN card installations.
Models with RF module built-in for Wireless LAN (DT-X11M10RC, M30RC)
These models integrate the RF module compliant with IEEE802.11b standard and supports TCP/IP protocol. Connections with LAN systems are made with ease.

The DT-X11 uses Microsoft® Windows®CE 5.0 as its operating system. This is an open, scalable and 32-bit operating system that makes reliable, real time communications with advanced Windows technologies possible. Windows®CE allows you to build a wide range of innovative and flexible applications and solutions.

The DT-X11 series has been designed and built to withstand harsh business environments. It has dust and water-splash proof capabilities that are compliant with the International Standard IEC529, IP64 criteria, and shock resistance to withstand a fall from up to 1.2 meters in height. As a result it can be used in all business environments including outdoors in rainy conditions.
Supplier

CASIO-Platz 1
22848 Norderstedt
Germany