Product • 30.11.2007
The DT-X5
Efficient data collection with innovative range of functions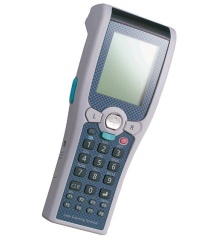 The small and robust DT-X5 has it all, and combines the advantages of the Microsoft Windows© CE©.Net operating system with complete reliability and the full range of features needed for wireless data collection solutions. The terminal is available in two variants, and offers an integrated laser scanner for all standard 1D symbologies, alongside integrated Bluetooth® for wireless data communication. Alternatively, the DT-X5 offers a wireless LAN module for a smooth exchange of data in accordance with IEEE802.11b Standard. An impressive 200 hours operating life makes the DT-X5 the marathon terminal of mobile data collection devices, and it can also be your reliable partner in everyday working life.

The ability to read symbologies reliably and quickly is a basic prerequisite for efficient operations. The excellent performance of the DT-X5 in this area is a result of the implementation of a new scanner motor allied with improved decoding algorithms. The width of the laser beam can be set individually. Completed scans can be reported in any combination of LED, buzzer or vibration.

The DT-X5 is powered by the mains unit (100-240V) and the integrated Li-Ion battery (up to 3400 mAh depending on the model) or standard alkaline batteries. An integrated back-up battery provides additional security for user data. If two AA batteries are used, the DT-X5M10E has more than 200 hours of operational life. The large Li-Ion battery powers the radio terminal for a full 30 hours with a WLAN connection.

The DT-X5 paves the way to easing workloads and boosting efficiency. It is easy to operate and at only about 250g pleasantly light and handy. The DT-X5 is extremely stable and resistant. Its magnesium casing has a hard-wearing plastic cover, offering excellent protection against knocks and dropping.

No matter whether digital camera, PDA or industry-standard Pocket PC: The original CASIO LCD technology is renown for its excellent quality. The semi-transparent LC screen with 128 x 160 pixels and white background illumination delivers an absolutely clear image with sharp contrasts and thus optimum readability across a wide working temperature range

CASIO hardware stands for absolute reliability and longevity. With its plastic-coated magnesium case, the DT-X5 survives drops on concrete from 1.80 meters. It also meets protection class IP54 as per IEC60529 Standard for dust and splash protection. The DT-X5 works perfectly in temperatures of -20°C to 50°C. The ideal qualities for long-term survival in tough working conditions.
Supplier

CASIO-Platz 1
22848 Norderstedt
Germany