Interview • 24.05.2017
Travel retail technology: Enticing passengers to buy
Whether in airports, railway stations or on cruises – the duty free and travel retail industry is facing an enormous change.
New technologies will become one of the main tools to attract customers on their journeys to visit retail areas. We talked to Erik Juul-Mortensen, president of the TFWA (Tax Free World Association) about the possibilities that Digital Signage and Omnichannel solutions offer.
Mr. Juul-Mortensen, can you figure out the main results by the Airport IT Trends Survey that will influence IT spending by airports in the future?
Research commissioned by TFWA into technology usage within the duty free and travel retail industry has shown that 88 percent of passengers travel with a smartphone. Travelers take an average of two to three separate devices on trips, while 80 percent of business passengers take a laptop with them on trips and 55 percent of people travelling for leisure will take a tablet with them on holiday. The survey found that when online at the airport, 89 percent of respondents said they were checking emails and messages or using social media.With this much interaction occurring on digital platforms, it is evident that airports need to invest to keep up with the trends in social media, online advertising and apps for their passengers. Over 60 of people surveyed stated that coupons and offers sent directly to their smartphones would make them more likely to visit a retail store at the airport, while around half would be motivated to buy. With a third of travelers actively expressing an interest in receiving duty free and travel retail brand information either directly or via a travel retailer, it seems a perfect opportunity for travel retailers to interact with potential customers. Airports are indeed 'pushing at an open door'.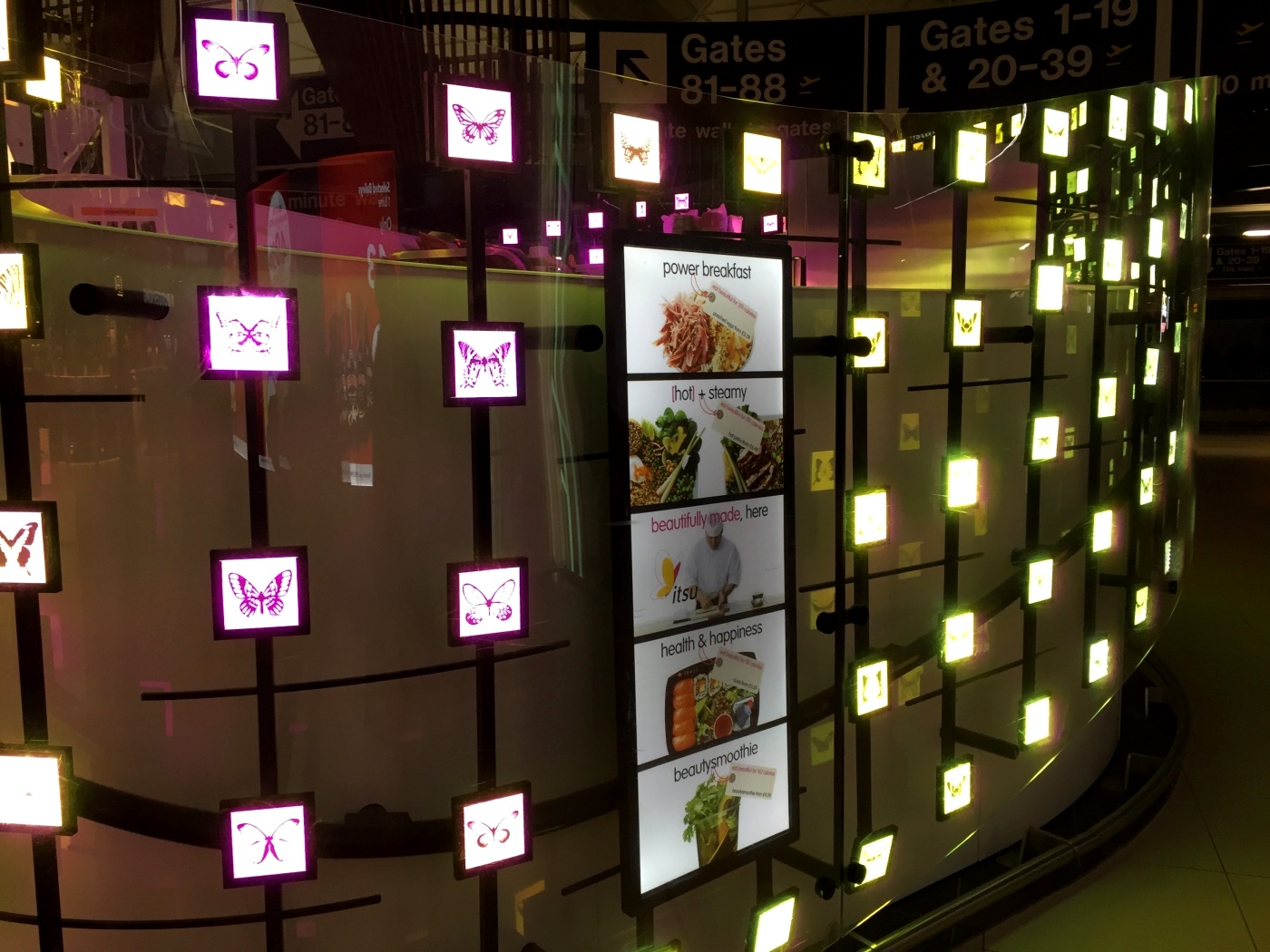 Source: iXtenso/Scholze
Which role does Digital Signage play in the travel retail industry?
Gone are the days when the arrivals and departures boards were the only use for digital signage at airports. The high-street retail industry is already beginning to utilize this opportunity by giving customers a helping hand with the use of virtual mirrors, sizing apps and online ordering systems and of course these technologies have the same resonance in the duty free and travel retail sector.
Many airports are already embracing the advantages of digital signage. Dubai Airport, as just one example, has already started using digital signage with real-time dynamic content that is scheduled for specific airport locations. This means that advertisements can be targeted to specific groups of people in their native language as they disembark or board the planes.
How does the implementation of digital elements in the shopping areas of airports influence customers' engagement?
Customers are rarely without their smartphones and the temptation to catch up on emails, view social media accounts or scan the news means that there is a huge potential to engage with customers. When it comes to apps suitable for the duty free and travel retail sector, TFWA's survey found that travelers would favor having one single app that could be used across all airports, rather than having an app for each airport, or an app specifically for their home airport. There is therefore clearly a potential gap in the market for these sorts of products.
Currently there is a lack of apps for duty free and travel retail shopping, and many have restrictions when it comes to their locational or transactional functionality. However, evidently there is an opportunity here to turn passengers' phones into mini advertising platforms showing targeted advertisements that are of interest to the individual users at a time when they have the time and the inclination to shop that is unique to the airport retail environment.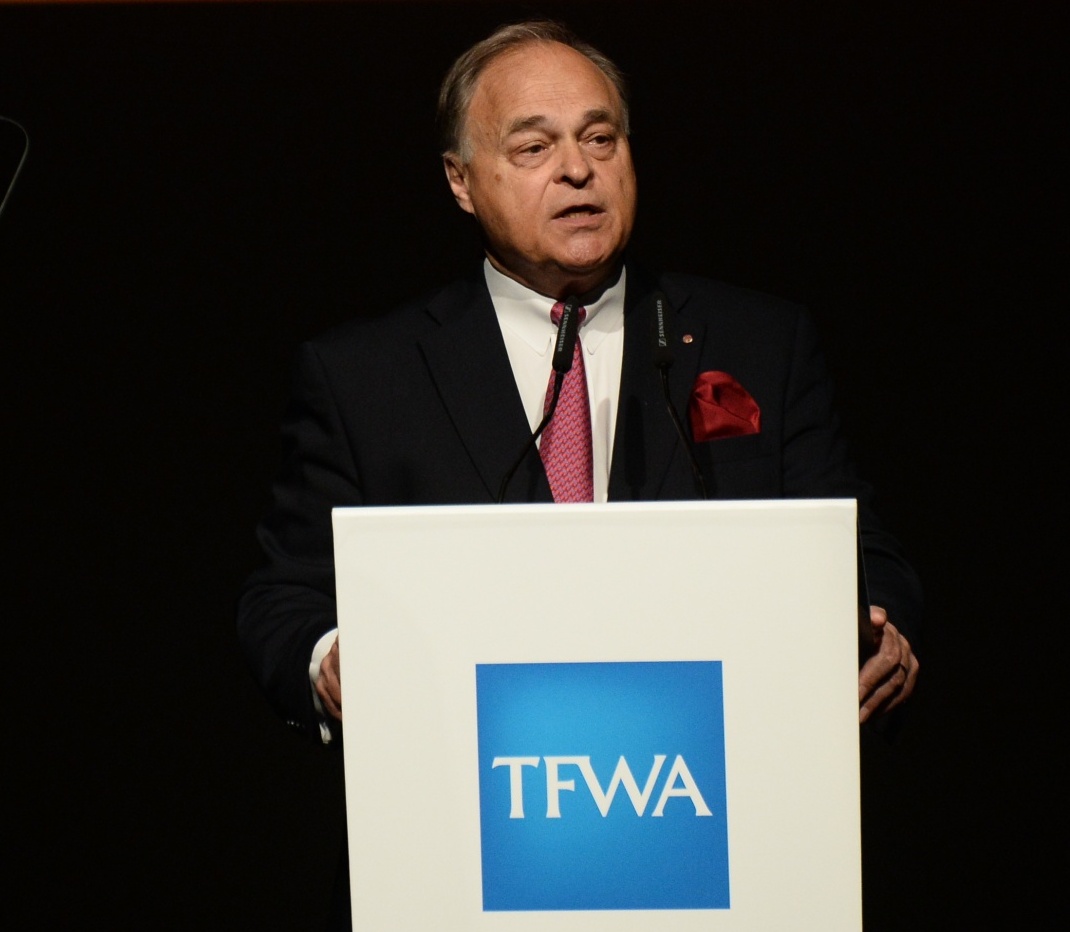 Source: TFWA
With the help of Digital Signage, online and offline channels can be connected – is this important for the travel retail industry?
In this digital age, it's of course becoming increasingly important to reach as many people as possible via online platforms that extend beyond the offline experience. A recent example of the merging of the online and the offline was the 'Say it With Toblerone' campaign. This involved dedicated spaces at selected airports where passengers could visit Toblerone branded photo booths, allowing them to share their images on social media with a hashtag. This connected the in-store experience with interaction online to reach a wide audience.
TFWA is currently developing and conducting new research and other activities around creative digital services and in-store solutions. What can you say right now about these plans and contents?
This year, TFWA is hosting TFWA DIGITAL VILLAGE, an exhibition to showcase creative digital solutions alongside its week-long, global gathering the TFWA World Exhibition & Conference held annually in Cannes, in the south of France. We as an industry have spoken for a long time about the need to embrace digital technologies, and this new event will, we believe, do much to help facilitate this process.
The exhibition will give brands, retailers, and airport operators as well as ferry and cruise line operators the opportunity to see what the technology sector has to offer, including innovative loyalty schemes, the latest software and state-of-the-art hardware to enhance customer experiences. It will also enable technology companies to connect with the key decision makers in duty free and travel retail.
Exhibition Tip:
TFWA Digital Village will take place on 4th to 6th October 2017 at the Gare Maritime, an exclusive exhibition area beside the Palais des Festivals venue in Cannes. More information