Like a "real-time strategy game" • 13.06.2018
Beverage retail market: revolutionary route planning crowned by success
Flaschenpost – successful two-hour delivery service
The German online retail business Flaschenpost (a pun meaning "message in a bottle" or quite literally "bottle delivery" in English) successfully delivers beverages within two hours in Münster and Cologne, with more cities to follow in the near future. The concept is based on optimized logistics planning services, assisted by state-of-the-art technology.
"We aim to be better than Amazon or REWE," announced Niklas Plath, COO of Flaschenpost GmbH, at the HIS conference in Münster, where the company, which launched its online beverage store in 2014, showcased its concept. How does the startup plan to do that? By expanding the business and providing dependable delivery service.
While other companies are increasingly struggling with customer services requests such as same-day delivery because they lack the necessary logistics capabilities, this small business seems to be able to keep its promise to deliver within 120 minutes.
"Our small company in Cologne orders beverages from Flaschenpost. So far, this has always worked and delivery stayed right within the time frame, " says client Vera Stetig and adds that "they also pick up our empty bottles and the prices are perfectly acceptable." Previous orders made at REWE have not always been quite so successful.
"An intelligent route planning algorithm is at the core of our business model" (Flaschenpost)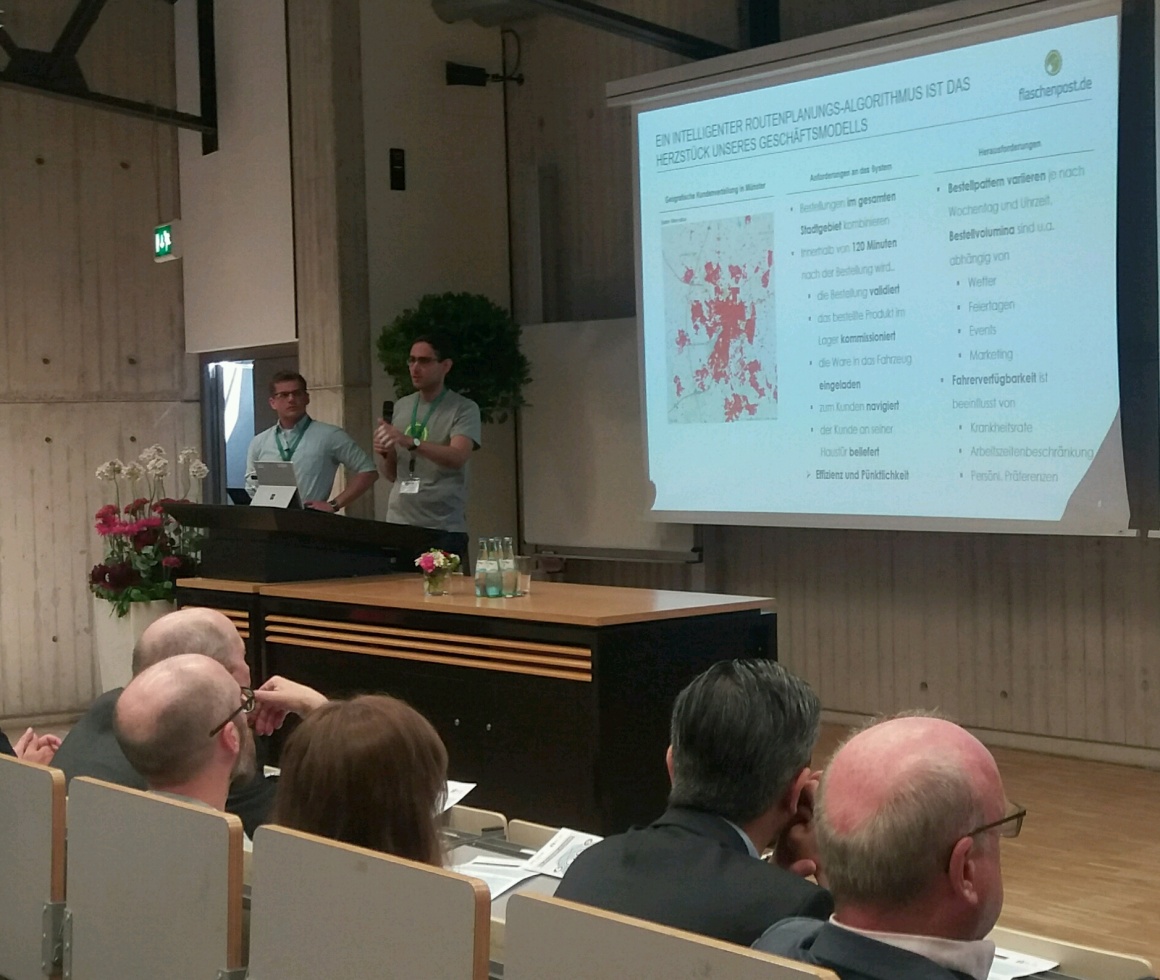 Source: Mörs/iXtenso
The team from Münster started in 2014 and quickly added 30,000 customers within its first three months of operation. After a short break, they returned with a new warehouse, logistics concept and the implementation of a route planning algorithm. Now the company delivers nearly 50,000 cases per week, doesn't charge a fee for delivery and requires a minimum order value of about ten euros. Bottle deposit fees are directly deducted from the invoice total. Payments can be made via PayPal or direct debit.
The software behind the success: All internally developed
The Flaschenpost example highlights a trend that more and more companies are taking up. They no longer use mainstream commercial software that's ready-made, but move in the opposite direction: both the algorithm and software for the handheld devices for the drivers are "homemade" and tailored to the specific needs of the company. This ensures a successful digital supply chain implementation.
The algorithm behind the route planning calculates the best delivery route. It combines and coordinates the incoming orders throughout the entire city. Within two hours, the order is validated, the ordered product is picked in the warehouse and then loaded onto the vehicle, driven to the customer and delivered at his/her doorstep.
Drivers save time since the system calculates the best route – while also factoring in whether the delivery window of a specific order is too narrow. "What's more, optimized route planning also helps save the environment," says Christopher Huesmann, Chief Revenue Officer at Flaschenpost.
The speakers add that the entire concept is far more cost-efficient than brick-and-mortar beverage stores. One of the many reasons for this is that the warehouses are close to the city and there is no need for intermediate storage and movement of goods.
How digitization makes route planning more efficient
At the "headquarters" in Münster, four large digital screens display the routes and current operations in real-time. "It reminds you of a real-time strategy game," says Huesmann with a grin. This brings everyone up to speed and allows them to immediately respond to unique settings.
Having said that, things aren't always as easy as the system with the algorithm makes it sound. As is the case with other retail settings, many factors play a role in cost/benefit considerations – such as delivery driver availability and varying order volumes, which in turn depends on weather conditions, holidays, events, marketing etc. The intelligent system is in a continuous learning loop.
Dependability trumps order size/quantity
The company believes it is more important to keep its delivery promises than to receive as many orders as possible. "Needless to say, this type of concept is only feasible with a large number of orders," says Huesmann, "but we reserve the right to occasionally close the online store when we realize that we would no longer be able to deliver the requested number of products. After all, we only have a certain number of drivers at our disposal and close shop at 10 p.m." It would be far worse for our customer relationships to not be able to deliver the merchandise as promised. "Of course, we don't want to be forced to close our online store in the future. That's something we are currently working on."