Interview • 05.07.2023
Real-time tracking 2.0: How packages no longer go astray
The importance of customer communication and real-time tracking for the retail sector
"Delivery is 3 stops away" and it still takes an hour? This is not uncommon. Many people align their daily planning with delivery time estimates and still have to deal with disappointment. Simon Seeger, Founder and Managing Director of Bettermile, tells us in this interview how this can change in the future and why real-time tracking is so important for retail.
What sets Bettermile apart from the status quo in delivery?
Traditional parcel delivery is mass-marketed, low-margin and not very innovative. The user experience does not meet the modern expectations of recipients: Parcels often arrive late, are left with neighbors or in parcel stores, and parcel tracking is usually not real-time, causing delays and inconvenience.
Bettermile uses AI software for parcel logistics and solves these problems through digitalization. The user-centric technology optimizes the delivery experience through route optimization, accurate geospatial data, and real-time tracking. The dynamic planning of delivery routes takes into account traffic, business hours and recipient details. The knowledge of the drivers also feeds directly into the solution's artificial intelligence. Real-time tracking provides recipients with accurate delivery information on up to ten minutes, improves the user experience and increases the productivity of delivery companies. This benefits everyone involved: the delivery companies, the drivers and, above all, the recipients.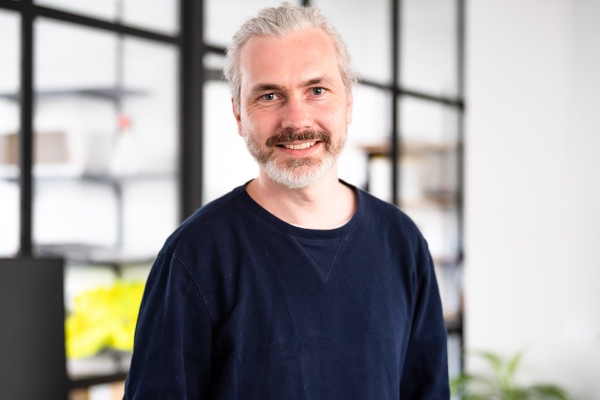 Source: Bettermile
What do you think: Why is accurate, real-time tracking so important to many customers?
Delivery logistics are critical to online shopping. According to Bettermile surveys, 77.8% of package recipients base their daily planning on real-time tracking, up from 58% last year. Over 52% value a shipping method with real-time tracking. This shift shows that the shopping experience has changed and now encompasses the entire phase from order to delivery.
In addition, the constant availability of information on smartphones has changed service expectations. Transparency and the ability to control delivery are now widely expected. Companies like Amazon have raised the bar on the shipping process, while traditional delivery companies lag behind. Accurate real-time tracking improves the customer experience and meets the high expectations of the clientele.
In your experience, for which industries is it particularly important to offer real-time tracking?
Real-time tracking is important for industries with high online order volumes, such as the textile and electronics industries. But it also offers added value for online retail as a whole. The increasing competitive pressure, especially from customer-centric companies like Amazon, requires a positive shopping experience beyond checkout. Only those who can offer this can score points with customers in the long term. Retailers should therefore rely on user-centric logistics service providers.
Does my store have to meet any requirements for me to switch to Bettermile?
No, it is up to the logistics partner to take the necessary steps to implement our technology. Thanks to simple apps and application programming interfaces (APIs), Bettermile technology is easily integrated into the infrastructure of parcel services. So for merchants, nothing changes.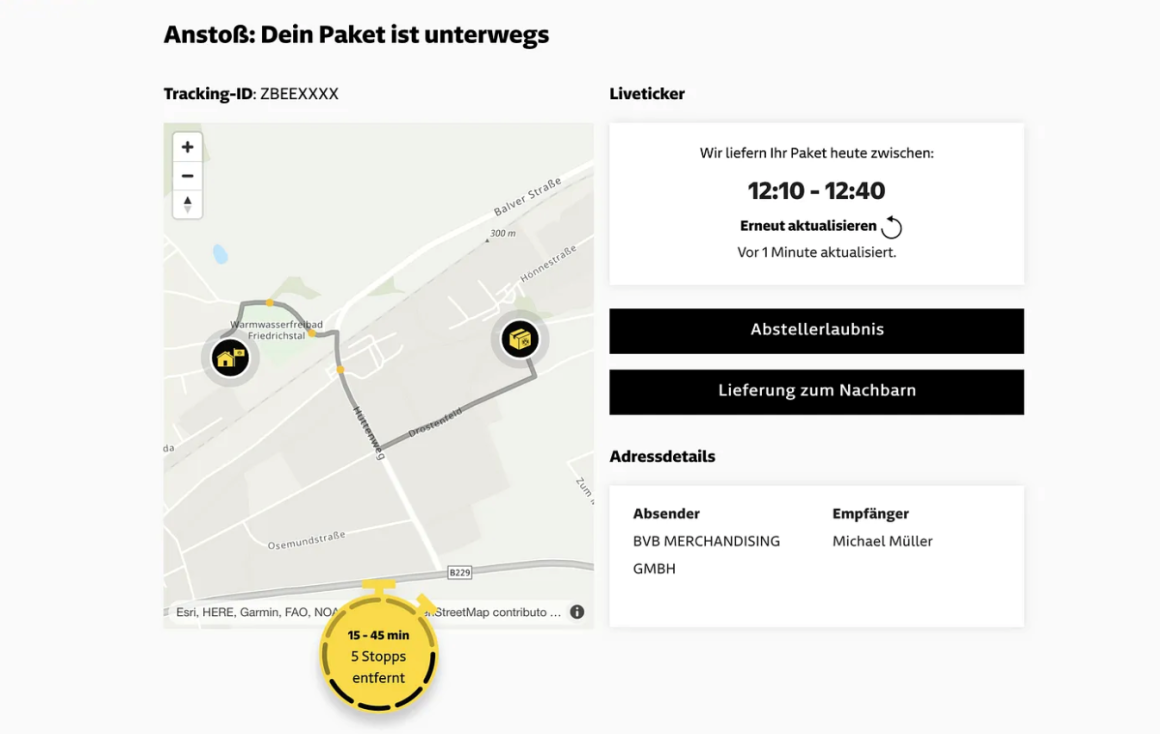 Source: BVB, Bettermile & GLS
What will change in terms of communication with customers?
The logistics partner plays an important role in delivery communication. By using real-time tracking, communication with customers can be significantly improved. One example of this is our collaboration with Borussia Dortmund (BVB) and GLS, where we designed the overview page with the current delivery information in the BVB design. This means that communication with the clientele takes place in the style of the soccer club and in soccer language to enhance the fan experience. In addition, updates are transmitted as in a soccer live ticker to show the current location and estimated time of arrival of the package. The package is now "a half" away rather than about 45 minutes. This personalized and topic-specific approach goes a long way toward improving the customer experience.
Sustainability is a big topic in retail. How does the last mile play into the strategy of retailers?
The growth of e-commerce is increasing the need for shipping services, but this leads to more emissions. As a result, delivery companies are increasingly turning to environmentally friendly solutions such as electric vehicles and cargo bikes to reduce their impact on climate change. But it's not just the type of vehicle that matters. Intelligent, technology-based route optimization like that offered by Bettermile also has an impact on sustainability. Avoiding detours and reducing traffic jams helps save energy usage and thus emissions.